Pre bonded Keratin U-Tip Remy Human Hair Extensions Nail Tip Hair Salon Quality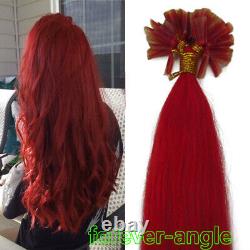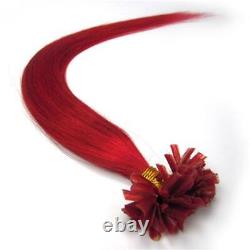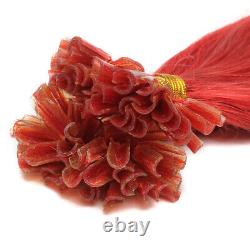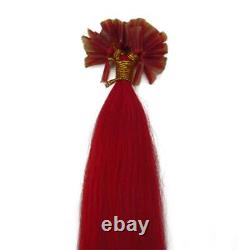 Pre bonded Keratin U-Tip Remy Human Hair Extensions Nail Tip Hair Salon Quality. Extension Hair Type: 100% Remy Human Hair, Real Natural hair, Silky Softy Smooth Straight, Various Choices of Colors. We guarantee 100% real REMY human hair. High quality, very competitive price. Colours may look little differently on each monitors.
100% High Quality Keratin U-Tip Human Hair Extensions Silky, Soft, Tangle Tree. Pre Bonded keratin nail tip hair extensions can be easily remove without any damage to your own hair. Limitless Styling Possibilites Blow-drying, Straightening, Curling or Braiding - Enjoy the benefits of real human hair extensions and create your very own hairstyle. Extra small U-tip (nail) bondings made of high-quality italien keratine for long and gentle durability 5.
100% of Real Human Hair MADE Which can be dyed, curled, straightened, washed like our own hairbut pls do not adapt too much tempreture. Pre Bonded U TIP HAIR EXTENSIONS U-tip (nail-tip) hair extensions are pre-bonded using high quality Italian Keratin to provide the strongest attachment and the longest lasting effect Keratin is the safest, natural bonding agent and will not cause the slightest damage to your natural hair The keratin, when melted with a Heat Connector, allows to fix the hair extensions to your own hair and therefore lengthen your hair and increase its volume This traditional technique is popularly used by professional hairdressers. During manufacture, alignment of the natural hair cuticles is kept, which greatly reduces tangles and mimics natural hair flow, and therefore it ensures a more natural blend with your own hair The nail tip hair extensions are dipped in high quality keratin hair extension glue at the tips This is the safest hair bonding glue and can be removed without damaging your natural hair using keratin removerSpecification: Extension Type: Pre-bonded keratin/U-Tips human hair extensions Hair Length: 16inch 18inch 20inch 22inch Extension Weight: 0.5g/Strand, 100s/pack, in total 50g/pack, 200Stands 100gram. 16inch 0.4g/s 100s 40gram, 18inch 0.5g/s 100s 50gram, 20inch 0.5g/s 100s 50gram, 16inch 0.4g/s 200s 80gram, 18inch 0.5g/s 200s 100gram, 20inch 0.5g/s 200s 100gram, 22inch 0.6g/s 100s 60gram, 22inch 0.6g/s 200s 120gram.
This method is particularly distinguished by their long wearing period of up to 6 months. Afterwards the strands can be removed easily using a Hair Extension Remover and special pliers. It is easy and safe.
We sincerely appreciate your long-term business with us. To help you accomplish complete satisfaction with our products, we provide expert guidance to help you choose the best possible products to suite your needs.
Please note that we cannot accept any used/worn or tempered product. Please check the colour and length before removing extensions from their packaging.
If you recieve an item that has become damaged in transit please message us as soon as you are aware of the damage and we will assit you with the return and replacement of the item and we will cover the cost of the return so you are not out of pocket. We are based in China.