WENNOZ (Honma Tokyo) Bixyplastia Precious Blend Plast Hair step 2 1 liter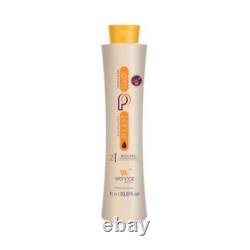 Plast Hair Bixyplastia - a classic composition for keratin smoothing of Slavic hair type. The set includes BIXYPLASTIA SHAMPOO step 1 and RECONSTRUCTIVE BIXYPLASTIA MASK step 2, which together smooth and deeply nourish.
The set is ideal for dry and damaged hair that needs to restore its natural beauty and smoothness. SHGO - Step 1 = pH 7.5 - 8.5. Keratin - Step 2 = pH 5.0 - 6.0.
Suitable for wavy and curly hair (2A-2B-2C) and (3A-3B). Fine, light or bleached hair straightens 100%. On dark hair with a coarse texture, the result will be 60%. Coloring can be done before processing.
After treatment, the root can be touched up with 6% hydrogen peroxide or dyed. Only after 3 days, the hair can be dyed with 9% or 12% hydrogen peroxide.
Hair can be lightened by one tone. Such treatment can be repeated every three months, before this period it is not necessary. The composition includes active ingredients: passion fruit, Brazil nuts, annatto and pracaxi, which.
Keep the straight yarn effect for a long time. Normalize the natural balance in the hair structure. Step 1 - Apply a small amount of BIXYPLASTIA SHAMPOO Step 1 to damp hair, massaging to the ends. Rinse with water and repeat the procedure, keeping the foam on the hair for 3-5 minutes.
Then rinse thoroughly with water. Step 2 - Dry the hair 50-100%, divide the hair into a convenient number of zones and apply the RECONSTRUCTIVE BIXYPLASTIA MASK strand by strand step 2, retreating from the scalp 1-1.5 cm. Keep the composition on the hair for 20-30 minutes and dry the hair 100%. Step 3 - Using a styler, select thin strands and work them at a temperature of 180 -230 degrees, depending on the type of hair. Step 4 - Let the hair cool down, rinse with warm water until the product is completely removed and apply any Honma Tokyo brand mask.
Leave the mask on for 10-15 minutes, then rinse thoroughly with water.