Ybera Fashion Stylist Authentic Hair Smoothing Treatment Keratin Brazilian 35oz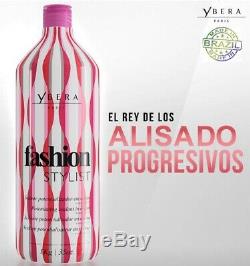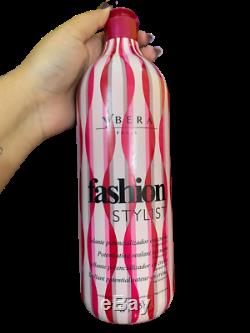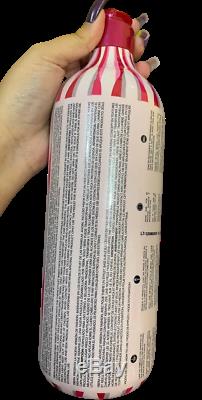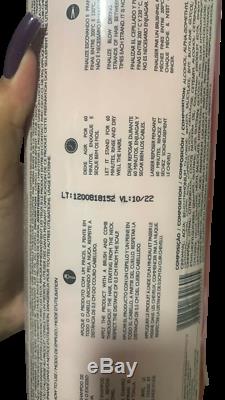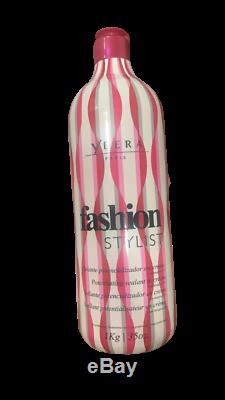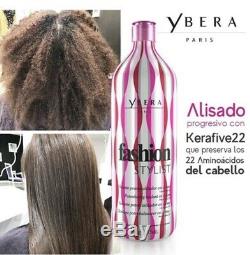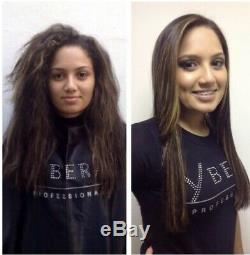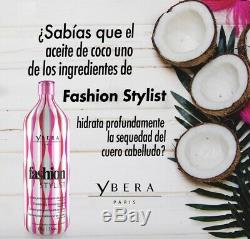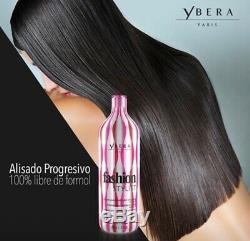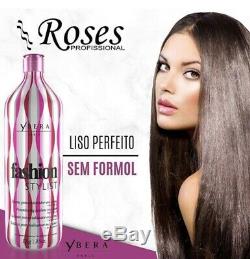 Treatment of Brazilian Keratin Ybera Original Fashion Stylist Candy 100% Straightening 35 Oz /. YBERA FASHION STYLIST Keratin Hair Treatment Straightener 35 Oz / 1 Liter. Package processing time 3-5 days..
We are an ampoio warehouse direct from brazil. Real photos, product as shown in publication images. Expiration date visible in photo posted (10-2022). 100% original products, last stock from my warehouse in Brazil.
Fashion Stylist cream version is a progressive straightening rich in Omega 3, 6, 9 and Quinoa protein; It also contains Kerafive22, a molecule developed by Ybera Paris that acts on the hair, preserving the 22 amino acids that make up the hair fiber. Among these 22 amino acids stand out.
Cysteine: (It is the largest amino acid that makes up keratin), increases hair growth, its thickness and improves its texture. Arginine: It is the precursor of nitric oxide, which is essential for hair growth, it also improves the capillary microcirculation of the cells of the hair follicles. Methionine: Its greatest attribute is that it supplies sulfur to hair cells and connective tissues, improving hair strength, as well as its growth and appearance. Cystine: This amino acid makes up approximately 10-14% of skin and hair. It is used to treat alopecia and as a treatment for the natural regeneration of hair.
Tyrosine: This amino acid creates melanin, which is the pigment that colors our hair and skin. Taurine: It is an amino acid of sulfur that prevents the decomposition of hair follicles, the lack of this leads to fine and weak hair. Fashion Stylist has a high concentration of amino acids that replenishes the lipid layer that protects the hair fiber from future damage. Its step by step is fast and 100% free of formaldehyde, smoke and strong odors.
The Fashion Stylist Collection comes in 4 textures: cream, shampoo, platinum ymousse gel. MAIN ASSETS OF YBERA FASHION STYLIST. Lactic Acid: Lactic acid is extracted from milk. In the Ybera Fashion formula, it is responsible for controlling the pH.
It keeps the cuticle sealed and provides intense shine. Glycolic Acid: It is found in some plants and fruits. In our formula this active intensifies the smooth and prolongs the fixation of the active ingredients in the hair strand. It works to protect hair against free radicals.
Glycolic acid treated hair withstands high temperatures better, even if it has been bleached. In the same way, it will make it more manageable and strong. Inca Oil: It is rich in Omega 3, 6 and 9. In Ybera Fashion, it releases the following fatty acids: Linoleic Acid, Araquinodonic Acid and Oleic Acid.
As well as Vitamins A and E. In their joint action, it allows the hair strand to have a longer duration in the new smoothed structure of the hair, prolonging the straight in a natural way. Restructures and protects hair giving it hydration and strength. Coconut Oil: Coconut oil is the largest source of fatty acids among healthy foods. It is composed of: Caprylic Acid, Lauric Acid and Myristic Acid. Together, these acids provide alignment to the hair strand that prolongs the sealing of the cuticles. It acts with an antioxidant action helping to protect the natural color of the hair.
Quinoa Protein: Quinoa contains more plant protein than any other grain. It works by controlling damage to both the cortex and the cuticle of the hair strand.
Promotes strand alignment and contains all essential amino acids. So it provides strength and resistance to the hair.
Easy application and smoke free. Stronger, softer and more manageable hair as it restores the lipid lost during chemical processes. It is fully compatible with any chemical. Prefect for all hair types, including virgin, bleached or reddish hair. Wash the hair with the Shampoo of your choice. Hair must be damp when applying the product.
Apply with the help of a brush Fashion Stylist Cream. Comb each strand very well.
Massage the product to get closer to the root. Respect the distance of 0.5 cm from the scalp.
Let it act for 60 min. Preferably with a thermal cap on very curly hair. Heat during action time is important.
Immediately after this time, process to align the fiber with a comb and dryer until it is completely smooth. (Do not brush, fine comb and blow dryer). Rinse with plenty of lukewarm water only. Proceed to professionally blow-dry the hair and then proceed to iron the hair in fine strands 15-20 times per strand, moderating the temperature according to the needs of the fiber.
Ironing is what allows the fiber to be reshaped, which is why we need to perform an efficient, slow and cautious ironing to achieve perfect results. Do not perform this process without a Professional, the results depend on the quality of the application and the correct diagnosis. The item "Ybera Fashion Stylist Authentic Hair Smoothing Treatment Keratin Brazilian 35oz" is in sale since Saturday, August 15, 2020.
This item is in the category "Health & Beauty\Hair Care & Styling\Relaxers & Straightening Prod". The seller is "ershop2015" and is located in Sao Paulo. This item can be shipped to United States, Canada, United Kingdom, Germany, France.
Size: 35 Oz
Gender: Women
Model: KERATINA VEGANA
Country/Region of Manufacture: Brazil
Formulation: Keratin
Type: Brazilian Blowout/Keratin
Hair Type: All Hair Types
Features: Alcohol-Free
Age Group: All Ages
Brand: Y^bera