Trivitt Brazilian Keratin 33.82 fl oz / Itallian Hairtech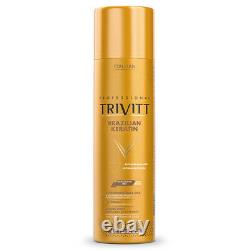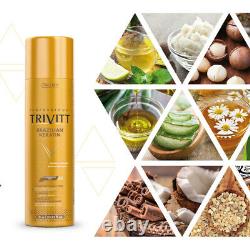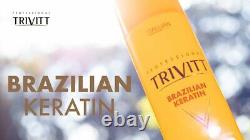 Despite the tendency to return to the natural and to enhance the curls, research in our marketing intelligence area verified the need for Alignment products, of Just One Step with multiservice function. So we are proud to present TRIVITT LISS. It is an acidic Progressive Brush, One Step, which allows from a slight reduction in volume to a perfect straightening. This active, heated with the Wheat Protein present in the formulation, promotes an acid complex that has the ability to align the threads keeping them healthy and shiny. Because we do not need to wash hair before application due to the high concentration of its active and excellent quality of treatment.
CAN I WASH THE HAIR BEFORE? Yes, you can wash it without problem, it will not interfere with the result. Modifies the structure of the hair fiber temporarily with the alignment of the yarns for a smooth effect while restoring the damaged cuticles and fills the areas with loss of mass, which leaves the hair more full-bodied, disciplined, shiny and soft. Contains: Vegetable Oils Mixture: Mixture of 12 precious oils obtained from nuts, seeds, herbs and fruits such as Argan, Shea Nut, Cotton Seeds, Coconut, Macadamia, Green Tea, Chamomile, Aloe, Calamus, Myrrh, Olives and Cinnamon.
Discipline and control of frizz. KARITÉ OIL: Smoothes dryness and dehydration of hair.
Provides excellent emollient and lubricant properties, providing silky feel and softness to extra-dry and rough hair. OIL OF CÁLAMO: Helps to model hair and fight frizz, as well as promoting FAN SEALING, protecting it from external aggressions. COTTON SEED OIL: Rich in VITAMIN F, the cottonseed oil has excellent emollient, nourishing, protective and restorative properties of the hair. Restores the natural elasticity of hair, as well as acting as TRUE ANTI-RESISTANCE SHIELD.
MYRRH OIL: The curative and highly regenerative action helps to preserve the INTEGRITY OF HAIR FIBER. ARGAN OIL: Rich in fatty acids, omega 9 and omega 6. Fatty acids act by preventing the loss of capillary hydration. Provides deep nutrition and helps restore the natural flexibility of hair.
It has ANTI-OXIDIZING action on the hair fiber exposed to the external aggressions, besides promoting hydration, softness and softness to the dried wires. CINNAMON OIL: The powerful properties of cinnamon can be useful for toning the circulatory system of the scalp and sanitizing the entire capillary system. Cinnamon oil is AROMATIC, ANTI-SEPTIC AND STIMULANT OF SENSES. OLIVE OIL: Characterized by triglycerides with high content of oleic fatty acid. Olive oil is rich in emollient and nourishing agents that restore the natural flexibility of dry hair.
MACADAMIA OIL: Nourishes hair and helps control volume and frizz formation. It has regenerative action and gives a healthy appearance to the hair. It is a substance rich in omega 3 and 6, polyunsaturated fats considered "good" and that have POTENTIAL HYDRATION and reconstructor for the wires.
COCONUT OIL EXTRACT: It has high content of lauric acid, myristic acid and caprylic acid, among others. It is an EXCELLENT CONDITIONING AGENT without rinsing the hair if applied in small amounts at the tips, with clean hair. CAMOMILA OILY EXTRACT: Strengthens, SOAKS AND HYDRATES HAIR while maintaining their integrity.
ALOE VERA OIL EXTRACT: EXCELLENT NUTRIENT, with important PROTEINS, VITAMINS AND MINERAL SALTS. It allows hair penetration and carries important nutrients into living cells. Aloe leaves are rich in moisturizing agents. GREEN TEA OILY EXTRACT: Antioxidant action due to the presence of polyphenol. Green tea also has manganese, potassium, folic acid, vitamin C, vitamin K, vitamin B1 and vitamin B2.
This item is in the category "Health & Beauty\Hair Care & Styling\Treatments, Oils & Protectors". The seller is "johnsantosusa" and is located in this country: US.
This item can be shipped to United States.
Size: 1L
Type: Brazilian Keratin
Hair Type: All Hair Types
Active Ingredients: Keratin
Volume: 33.82 fl oz
Brand: Itallian Hair Tech