Robson Peluquero CCRP Professional Hair Reconstruction & Restoration 4 Steps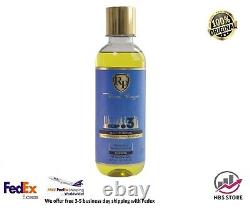 Robson Peluquero - CCRP Professional Hair Reconstruction & Restoration 4 Steps. Do you want to restore shine, strength and beauty to damaged, brittle hair that is so elastic that it looks like chewing gum after discoloration? With CCRP Hair Treatment, from the Brazilian brand Robson Peluquero, you will leave these problems behind. This is the secret to having impressive results, giving life and leaving your client satisfied and delighted. CHARACTERISTICS AND ACTION OF THE PRODUCTS. CCRP Shampoo promotes a smooth, nutritious and controlled cleaning, producing a creamy and abundant foam without harming the hair fiber. In its formula are essential fatty acids, emollients and antioxidants; which favors the appearance of shine without removing moisture. It is free of parabens and petroleum jelly. CCRP Step 1 is essential in the CCRP application process.
It is composed of the powerful treatment mask, which has high repairing and nourishing power. In addition, it seals the cuticles and promotes a natural and healthy texture. It is a high-impact product, made with specific ingredients to treat hair that is fragile and damaged by chemical processes. CCRP Step 2 is yet another treatment mask that hydrates and conditions the hair fiber.
Reduces volume and enhances the appearance of shine in the hair. Its texture is creamy and its formula contains ingredients focused on eliminating the fragility of the threads. The treatment ends with step 3 of CCRP, a concentrated argan oil that intervenes in the restoration and recovery of the fiber. It also renews the hair structure internally and externally.
You can use this product with your treatment or as a finishing serum before and after styling. RESULTS AND BENEFITS FOR HAIR. Ideal for brittle, damaged and bubblegum-looking hair after a chemical procedure. Eliminates the elastic effect in the first application. Intensively rebuilds and repairs the hair fiber. Recovery after coloring or bleaching. Shiny, soft, silky hair with natural elasticity. Durability: once the cause of the elastic effect is eliminated with CCRP, the hair will not return to this state. Combination of noble actives that act directly on the locks after going through discoloration processes. Follow the directions for use very carefully. Keep the product out of the reach of children. Store in a cool place.
Do not apply if the scalp is irritated. Discontinue use if you notice any allergies.
Avoid contact with the eye area. Attention, this kit will be sent directly to our representative in Brazil.