Progressive Hair Straightening Tannin and Biotin 100% Organic 0% Formol keratin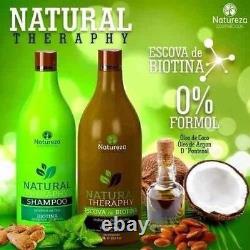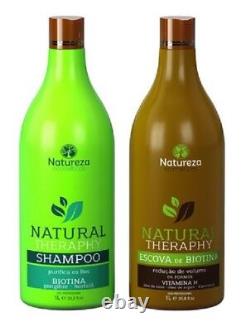 If in doubt, I'm available. Hair Straightening Tannin and Biotin 100% Organic 0% Formol. 2 x 34oz - kit.
Progressive Biotin Brush - Nature Cosmetics. Shampoo: Biotin, Ginger and Mint. NATURAL THERAPY Dilator Shampoo was developed with soft surfactants providing greater cleaning of hair strands, leaving them lighter and looser. How to apply: Apply NATURAL THERAPY dildo shampoo to wet hair, massage for a few minutes and rinse. Repeat the action and let it act for 5 minutes in the hair, or as many times as necessary to open the cuticle.
Active: 0% Formol, Viatmin H, Coconut oil, argan oil, D'pantenol. Gloss NATURAL THERAPY was developed with moisturizing emollients that help lines, restore and strengthen wires.
Method of Application: Apply Gloss to dry hair after washing with dilating shampoo. Spread with fine comb and pause for 30 to 50 minutes. Rinse from 80 to 100% of the product. Finish with brushing and plank in thin wicks 12 to 15 times each wick. Tanning and Biotin Capillary Therapy.
Alisa 100% any hair structure. Do not yellow the blonde. Does not fade other colors. Does not cause burning on the scalp.
Does not cause burning eyes. Does not irritate the airways. Orders outside the United States. (Boxes, packaging, instructions, ETC) Everything we send needs to come back. No physical damage will be accepted!!