Progressive Coffee Green Nature Cosmetics Organic keratin 2 x 1 liter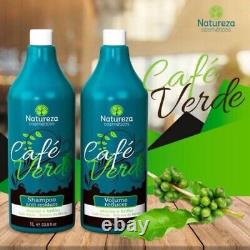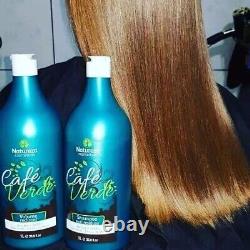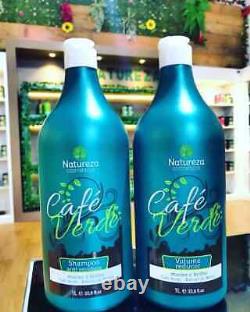 If in doubt, I'm available. Progressive Coffee Green Nature Cosmetics. Nature Cosmetics Progressive Green Coffee Brush 2x1 Liter. 01 Anti-Waste Shampoo Coffee Green 1 Liter. 01 Treatment Cream Volume Reducer Green Coffee 1 Liter.
The Green Coffee Anti-Waste Shampoo is highly effective in opening yarn cuticles, causing the product's assets to penetrate deeply and visibly improve the final results on your hair. The Volume Reducer Treatment Cream contains state-of-the-art active ingredients that treat, greatly reduce hair volume and leave the hair much brighter.
How to use (step by step): Apply anti-residue shampoo to wet hair and massage. Leave on for 5 minutes and rinse. Repeat the operation and dry the wires with dryer. Apply Volume Reducer treatment cream on dry wires, wick to wick. Leave on for 40 minutes and dry the wires, wipe the board in at least 10 times with small wicks. Wait to cool, wash the wires and brush them. Process 25351.495856 / 2015-73.
Does the Green Coffee Progressive Brush have formaldehyde? Always consult a professional hairdresser before applying processing products. Touch test and wick test is recommended to measure wire strength and degree of fading.
The store is not responsible for the misuse of the product. The store does not recommend the application in pregnant women, infants and children. Do not apply if the scalp is irritated or injured. This product should only be used for its intended purpose and is dangerous for any other use. Orders outside the United States. (Boxes, packaging, instructions, ETC) Everything we send needs to come back. No physical damage will be accepted!!