Kit Exoplastia Exo Hair Brazilian Keratin Nanotechnology 2 x 500mL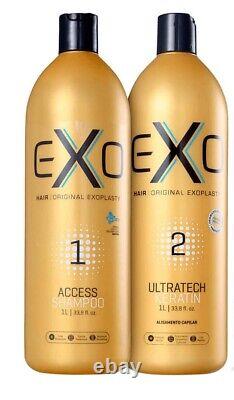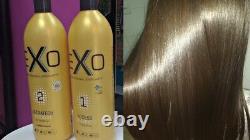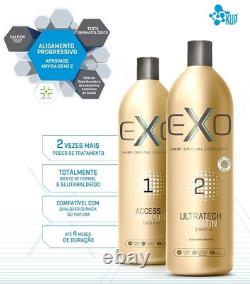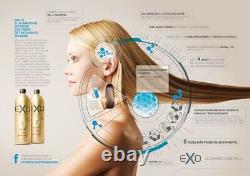 ExoHair capillary exoplasty is an important nanotechnological resource in the structural treatment of the hair strand. Developed exclusively through nanoparticles of EXOVITIN® molecules, this product crosses the cuticle, settling deep into the hair cortex. It forms a structurally reinforcing protein network inside and outside the strand, leaving hair smoother and shinier. If you want to use, after Nanotech Keratin, chemical products such as sodium hydroxide, lithium and guanidine, wait at least 2 months. Always perform the swab test before any type of straightening in order to guarantee the safety of the procedure. Nanotech Keratin: It can be used on any type of hair, as long as it has normal resistance. Wet a strand and pull 10 strands at the ends.
If it breaks easily do not use. Avoid temperatures above 190°C on blond, red or light-colored hair.
There is no need to wash your hair right away. Waiting 24 to 48 hours to wash the hair helps in the polymerization of Exovitin® Nanoparticles. It is totally recommended to use the Exotrat Nano line in order to optimize the fantastic results obtained with Exo Nanotech Keratin. Approximate process time: 2 hours. Wash hair with step 1 (as many times as necessary to remove all residue).
In the last application of the shampoo, leave to act on the hair for 3 minutes. Comb your hair all over. Dry hair until all moisture is removed from the hair. Divide the hair as you see fit and start applying step 2 with a distance from the root of 30cm. I let it act for 30 minutes and then wash it off with just water.
Dry with a dryer and iron the board at a temperature of 190 to 230 degrees. Passing the board up to 12 times in the same lock. Inked hair avoid temperature above 190 degrees.