Keratina BRAZILIAN RESULTS plus Shampoo Clarificante Smart Protection 4oz/16oz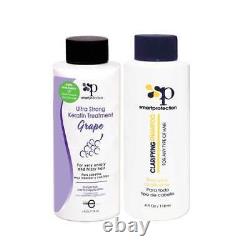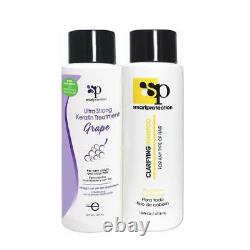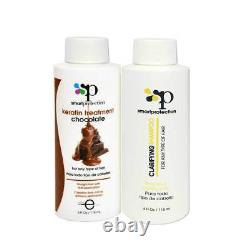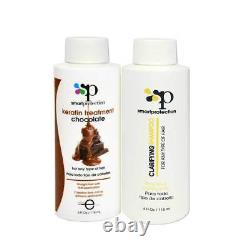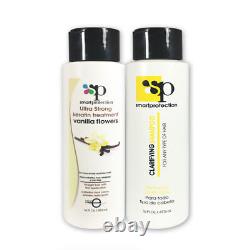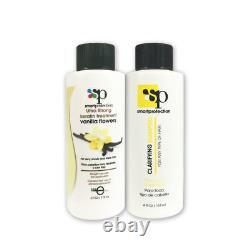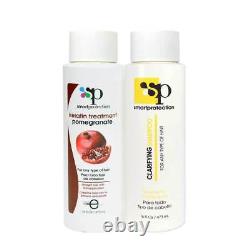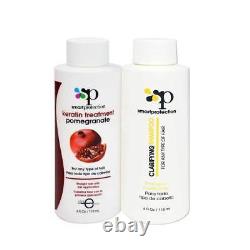 Keratin Hair Treatment infused with hydrolyzed keratin & collagen Amino acids for stronger healthier shiny hair. Eliminates frizz and curl, promotes healing of hair, blocks the effects of humidity. Great for all hair types Smart Protection Brazilian Keratin Treatment will leave your hair elastic, flexible, and soft, with a naturally vibrant shine.
Keratin is a very strong protein that is a natural component of your hair, skin, nails and teeth. Clarifying shampoo is formulated to deep-cleans the hair cuticle and removes all residues and impurities that cling to the hair shaft. WARNING: APPLY ONLY IN A WELL-VENTILATED AREA. GLOVES AND FACE-MASKS ARE RECOMMENDED DURING APPLICATION.
AVOID CONTACT WITH EYES AND DO NOT INGEST. IF PRODUCT GETS INTO YOUR EYES, FLUSH IMMEDIATELY WITH PLENTY OF WATER AND SEEK MEDICAL ASSISTANCE. KEEP OUT OF THE REACH OF CHILDREN. WOMEN WHO ARE PREGNANT OR BREAST-FEEDING SHOULD AVOID CONTACT WITH THE PRODUCT. Tratamiento Capilar con Queratina hidrolizada, colágeno y aminoécidos para un pelo más fuerte sano y brillante.
Elimina el frizz y los rizos, promueve la curación del cabello, bloquea los efectos de la humedad. El tratamiento de Queratina Brasileña Smart Protection dejará su pelo elástico, flexible y suave, con un brillo natural vibrante. La queratina es una proteí­na, un componente natural muy fuerte de su cabello, la piel, las uñas y los dientes. El champú clarificador está formulado para una limpieza profunda de la cutí­cula y elimina todos los residuos e impurezas que se adhieren al cabello. ADVERTENCIA: APLIQUE SOLAMENTE EN UN ÁREA BIEN VENTILADA.
GUANTES Y MÁSCARAS SE RECOMIENDAN DURANTE LA APLICACIÓN. EVITE EL CONTACTO CON LOS OJOS Y NO INGESTAR. SI EL PRODUCTO HICIERA CONTACTO CON SUS OJOS, ENJUAGUE INMEDIATAMENTE CON MUCHA AGUA Y BUSQUE ASISTENCIA MÉDICA. MANTENER FUERA DEL ALCANCE DE LOS NIÑOS. LAS MUJERES EMBARAZADAS O QUE DEN DE LACTAR DEBEN EVITAR EL CONTACTO CON EL PRODUCTO.
This product is professional grade. USE ONLY IN WELL VENTILATED AREAS. 1 Wash your hair gently three times with clarifying shampoo Smart Protection for thorough cleaning. 2 Blow-dry the hair, without combing or brushing, until 100% dry.
3 Divide the hair into four parts. 4 Apply to small sections (1 inch) from root to tip, making sure to saturate the hair.
Starting at the back of the neck and then working up to the front. 5 Allow 30-40 minutes for the product to saturate the hair and then blow dry hair using a flat, square brush until 100% dry. 6 Divide the hair into four parts.
7 Taking small sections (1 inch), iron the hair from root to tip to 450 F, 4 to 6 times each strand. Starting at the back of the neck and then working up to the front to finish. NOTE: Iron not reaching 450 F won't produce the expected results. 8 Leave the treatment in for the full 72 hours before rinsing out. 9 Finally wash your hair, rinse completely out leaving no residue.
Important: For best results we recommend to use only Smart Protection Sulfate Free Shampoo and Conditioner after the application. Water, Cetyl Alcohol, Hydrolyzed Keratin, Cyclopentasiloxane, Amodimethicone (and) Cetrimonium Chloride (and) Trideceth-10, Steartrimonium Chloride, Mineral Oil, Glycerin, Fragrance, Collagen, Silk Amino Acids, Hydrolyzed Wheat Protein, Hydrolyzed Rice Protein, Hydrolyzed Soy Protein, Hydrolyzed Silk Protein, Theobroma Cacao Extract, Formaldehyde 2%, Hydroxyethyl Cellulose, Stearamidopropyl Dimethylamine, EDTA. We will do our best to insure your item will get right to your door as soon as possible. International Buyers - Please Note. Our items are made to flatten your body and many of our items runs small.