Antifrizz Beauty Brazilian Keratin Treatment 2x1000ml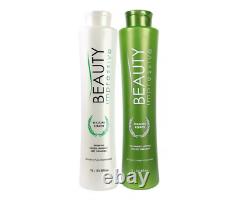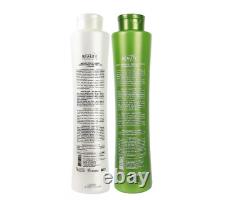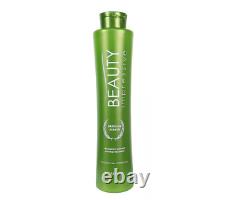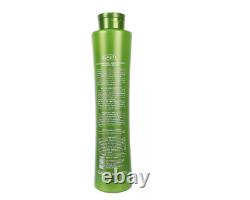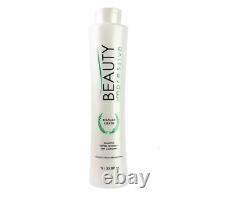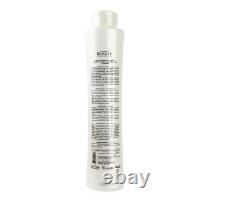 Antifrizz Beauty Brazilian Keratin Treatment 2x1000ml. The Beauty Impressive Progressive Brush is easy to apply in just two steps, being a Shampoo that removes impurities from the hair and opens the cuticles, preparing for the Volume Reducing Treatment that softens, smoothes, hydrates, providing suppleness and lightness to the hair.
Enriched with vitamin E, cupuaçu butter, macadamia oil and proteins, it promotes softness, treats damaged strands effectively and lastingly, leaving hair silky, shiny and with a natural look. The Beauty Impressive Progressive Brush treats damaged hair effectively and lastingly. Apply the shampoo to the hair, gently massage with the fingertips, leave on for a few minutes, rinse thoroughly. Completely dry the hair with the help of a hairdryer and apply Beauty in thin strands with the help of a brush starting at the back of the head from the nape of the neck (keep a distance of 1 cm from the scalp) until finishing all over the hair.
Let it act for 15 to 20 minutes. Rinse by removing all excess product, dry the hair with the dryer and finish with the flat iron at least 10 times in each strand. Hydrated, smooth hair, with a treated capillary structure, malleability and you are even more beautiful with natural straight hair. 01 - Beauty Impressive Deep Cleansing Shampoo 1000ml. 01 - Impressive Beauty Anti Frizz Treatment 1000ml. Não informe o número de rastreamento se você comprar produtos na sexta à noite, sábado e domingo, nós enviamos durante o horário comercial. Fique atento às atualizações do número de rastreamento. Orders outside the United States. (Boxes, packaging, instructions, ETC) Everything we send needs to come back.
Nenhum dano físico será aceito!!! Total assessoria para você escolher o produto certo para o seu projeto, caso tenha alguma dúvida consulte-nos antes de comprar, não aceitamos devoluções tenha escolhido o produto errado para o seu projeto ou tenha algum arrependimento. Obrigado pela sua compra, estamos à disposição para responder a todas as suas perguntas.