ENCANTO Brazilian Keratin Treatment Hair Straightening BLOW DRY BLOWOUT HAIR KIT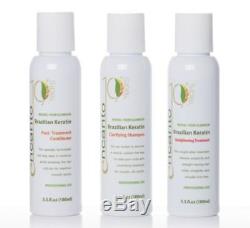 30 days to withdraw from the contract. From 8:00 to 15:00. ENCANTO Brazilian Keratin Treatment Hair Straightening BLOW DRY BLOWOUT HAIR KIT. ENCANTO KIT Brazilian Keratin Treatment. ENCANTO is a proven product for hair straightening and reconstruction. Whether your hair is thin or thick, curly, wavy, or fluffy if you wish to have healthy, smooth and shiny hair, ENCANTO is ideal for you. YOU MAY WASH YOUR HAIR THE SAME DAY - AFTER THE PROCEDURE.
YOU NO LONGER NEED TO WAIT 2-3 DAYS AS IN THE CASE OF OTHER PRODUCTS. Keratin is intended for those who have some conditioner and shampoo left from the whole ENCANTO kit , or for those who need more keratin to perform the procedure of permanent hair straightening. The effects of ENCANTO treatment are very visible on hair damaged after highlightening, dying, permanent curls, or other chemical procedures, as well as on dry and dull hair.
The effects are visible for 2 to 4 months. The durability depends on the type of hair and other chemical procedures (type of hair dying or highlightening) applied after therapy with the use of ENCANTO.
ENCANTO FORMULA is based on keratin, which is the natural hair structural material. It is the element that differs this method from the so called permanent straightening, in which a chemical substance (usually ammonium thioglycolate or sodium hydroxide) causes breaking of disulfide bridges responsible for protection, strength and elasticity of hair.
ENCANTO procedure does not interfere into internal structure of hair. It only involves ironing keratin into hair bundles, which then tightly adheres to and surrounds hair.
The effect is smooth, not fluffy, and shiny hair, and protection against hair damage. - It may be used for all hair types highlightened, dyed, etc. It is not recommended for pregnant women and while breastfeeding - The product should be used 2 weeks prior to or after dying - It is intended for professional use. If you wish to use it at home, you will need the assistance of another person and the straightener that heats up to 215-230°C. On what type of hair keratin straightening may be used with cosmetics of Encanto BKT?? Keratin straightening with Encanto BKT may be used on practically all types of hair: dyed, natural, curly, with highlights, etc.. To which temperature should I heat up the straightener to properly carry out the procedure? It is recommended to use a straightener with a minimum heating temperature of 215-232°C. I want to dye my hair as well. When should I do it? Hair should be dyed before the procedure (preferably 2 weeks prior to treatment). If this is not possible, hair may be dyed min. 2 weeks after keratin procedure with Encanto BKT. Remember, hair should never be dyed at the time of carrying out the procedure.
I would like to have my hair cut. It is recommended to have your hair shortened or cut after treatment with Encanto BKT as some end of some types of hair may split after the procedure of keratin straightening. I used to use cosmetics of another brand for hair straightening.
Can I use Encanto BKT? Yes, of course there are no contradictions - the choice of cosmetics only depends on you! Can treatment with Encanto BKTY be used for children? Yes, however we recommend to use it for children aged above 10 years. Can treatment with Encanto BKTY be used by pregnant women? It is not recommended to perform the procedure during pregnancy or breastfeeding. How long does the effect persist?
The effect will be visible up to 4 months and disappear gradually with each hair wash. When can I repeat the procedure? Depends on individual preferences and conditions, some women do not have to repeat the procedure more often than every 4-5 months.
However some women perform hair keratin straightening much more often. It depends on individual preferences and hair type. Instructions concerning proper performance of the procedure seem to be time consuming. Can I omit any step? Due to the use of unique formula in Encanto BKT cosmetics, thanks to which the hair may be washed the same day after the procedure, it is necessary to strictly follow each steps to obtain proper effects.
I recently used cosmetics of another brand for hair keratin straightening. After the procedure it was recommended not to wash hair for about 2-4 days - Do I have to do the same in the case of Encanto BKT? You may wash your hair the same day! What can I do to weaken possible sensitiveness to unpleasant odour of the product?
Basis is adequate ventilation - avoid small rooms, use additional ventilation such as fans or open windows. Moreover, always use gloves and facemask. We will be happy to inform you about new products.
The item "ENCANTO Brazilian Keratin Treatment Hair Straightening BLOW DRY BLOWOUT HAIR KIT" is in sale since Tuesday, May 22, 2018. This item is in the category "Health & Beauty\Hair Care & Styling\Relaxers & Straightening Prod". The seller is "elegante-damenmode" and is located in Soest. This item can be shipped worldwide.
Marke: Encanto Brazilian Keratin
Produktart: Brazilian Blowout/Keratin
Haartyp: Alle Haartypen
Brand: Encanto
MPN: encanto