Brazilian KERATIN TREATMENT kerafruit Plastic Surgery Hydratation Hair Care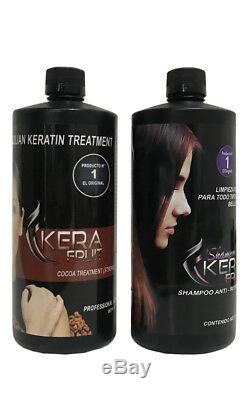 KIT KERA FRUIT ORIGINAL FORMULA BRAZILIAN PLASTIC SURGERY 1L. Plastic Surgery is a chemical treatment for hair that performs 3 actions simultaneously: It generates a non-permanent straightening effect that lasts from 15 to 20 weeks, produces a deep hydration, a very marked natural brightness and as an additional effect, in hair with Dye, highlights the color in HD accentuating the tones dramatically. With regard to other types of products such as keratin, (which affects the hair structure in the marrow and which generates an irreversible smoothing for months), Capillary Plastic Surgery contains proteins and chemical agents that radically affect the hair; In this treatment the conjugation of ingredients like FFA Free Fatty Acids derived from nutmeg, lactic acid, alcohols, other products of fermentation of the sugar and emulsifiers, offer an extraordinary result obtaining in more than 95% A hair with a superior appearance favoring it.
It hydrates the chemically treated dry hair, achieving manageable mane and a much more pleasant and natural look. Plastic Surgery smoothes strands up to 60%. This is because the treatment modifies the structure of the hair, breaking the wave and modifying its natural composition to achieve a smoother hair. It also provides deep moisturizing for the hair, as its content in fatty oils allows it to regain its vitality, look much healthier, shiny and smooth. The smoothness that the hair acquires with this treatment is undoubtedly one of the best properties, since it completely eliminates the porosity of the strands, very common defect of the mistreated hair and the dyed hair.
Kera Fruit Plastic Surgery reduces hair waves, causing the hair to lose its frizz, allowing it to perinate more easily, to the point of decreasing the use of the hair and the iron. Kera Fruit Plastic Surgery decreases frizz completely.
The hair after being subjected to this treatment looks much more appeased and reduces in almost all its totality the static electricity that is responsible for those electric hairs that we observed raised above our head. Reducing volume is another benefit of Kera Fruit Plastic Surgery. Due to the deep hydration and the structure change of the strands, the hair decreases its volume by 70%. WASH YOUR HAIR WITH ANTI-WASTE PURIFYING SHAMPOO (STEP 1) FROM 3 TO 4 TIMES. LEAVING SHAMPOO FOR 5 MINUTES (AND IF YOUR HAIR IS VERY THICK TO LET YOU ACT 5 MINUTES MORE TO OPEN BETTER HAIR CUTICULA).
Meanwhile it is recommended to comb and untangle your hair. DIVIDE HAIR IN 2CM THICKNESSES. THE PLASTIC SURGERY (STEP 2) IS APPLIED WITHOUT TOUCHING THE ROOT. THE PRODUCT IS DISTRIBUTED IN THE WHOLE HAIR. THE CREAM IS RESTED FOR 15 MINUTES TO 20 MINUTES.
THE HAIR IS DRIED AGAIN WITH A HAND DRYER WITHOUT USING THE BRUSH. IRON EVERY LOCK OF HAIR 10 TIMES TO PROPERLY SEAL THE PORDUCT, 1 CM OF THICKNESS FOR EVERY LOCK OF HAIR, TITANIUM OR INFRARED IRON CAN BE USED. IT IS RECOMMENDED TO LEAVE FOR 48 HOURS WITHOUT USING LOOSES OR HOOKS AND AFTER REMOVING WITH A FREE SODIUM SHAMPOO (WITHOUT SALT) TO OBTAIN OPTIMUM FINISH. NOTE: TO MAINTAIN THE BRIGHTNESS OF HAIR FOR MORE TIME EVERY TIME YOU WASH YOUR HAIR WITH COLD WATER, YOU ACTIVATE AGAIN HAIR PROTEINS (USE TREATMENTS WITHOUT SODIUM). You will get a reply much sooner.
You will get a reply much sooner! The item "Brazilian KERATIN TREATMENT kerafruit Plastic Surgery Hydratation Hair Care" is in sale since Wednesday, April 4, 2018. This item is in the category "Health & Beauty\Hair Care & Styling\Relaxers & Straightening Prod". The seller is "kikebeauty" and is located in Caracas .
This item can be shipped worldwide.
Size: 1 LITRO
Gender: Women
Non-Domestic Product: No
Modified Item: No
Country/Region of Manufacture: Brazil
Custom Bundle: No
Brand: KERAFRUIT