Qod Pro Max Prime S-fiber Kit Brazilian Keratine Treatment + Hair Mask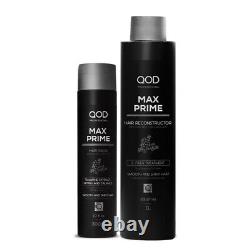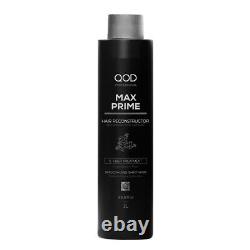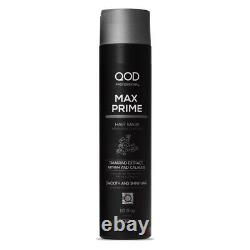 Max Prime S-Fiber Kit contains 1 Max S-Fiber Treatment 1000ml + 1 Max Prime After Treatment Mask 300ml. QOD MAX PRIME S-FIBER is a hair fiber smoothing system with a more natural and longer-lasting straightening effect than conventional Brazilian keratin treatments.
What makes the hair straight? The combination among acid pH and a blend of vegetable proteins which softens the natural fibers that form the hair. Also, the heat contact (termo-activated memory) promotes realignment, volume reduction, instant shine and 0% frizz - straight effect.
Advantages of QOD MAX PRIME. Easy application with no smoke effect or steam. Formaldehyde-free smoothing treatment, no allergic reactions such as eye watering and redness. Compatible with any chemical treatment. It reduces 90% of blow dry time after treatment.
Lasts up to 120 days on hair (average 90 days). Acid proteins: realign the strands. Conditioning agents: reduces volume and adds shine. Wash hair twice with QOD Original Cleanse and dry hair enough to remove 80% of water. Apply QOD Max Prime with a color brush, section by section, 1cm from the root.
Leave the treatment on the hair from 30 to 45 minutes according to the hair type. The client´s hair should be analyzed, and the time pause will be according its resistance. Porous and fragile hair (bleached/blonde/white/weak) = 30 minutes. Normal, resistant, virgin, curly, afro hair = 45 minutes (if very resistant up to 50 min).
Rinse the hair during 1 minute. For bleached/blonde/weak, rinse hair for 1 extra minute. For a better treatment result, apply QOD Max Prime After Treatment Mask, massage, comb through and leave in for 5 minutes. (If you don't have this After-Treatment Mask, go straight to step 7). Rinse hair during 1 minute. Blow dry 100% of hair. If possible, using blow dryer + round brush to align and prepare hair for ironing process. Section the hair and iron it from roots to ends.
The first pass should be in a smooth movement followed by the recommended number of passes and temperature for each hair type. Porous, white, blonde, bleached = 180 to 190C / average 5 passes (do not use above 190C in these hair types). Normal, colored, damaged = 200 to 210C / average 7 passes.
Resistant, virgin, curly, afro hair = 220 to 230C / up to 10 passes. The Ideal is to wait 48 hours until the first wash, otherwise 24 hours is required. Product is heat activated, thus at home, after hair washed, the client will reach the best straight effect using hair dryer on heat mode. (Only dry, not necessary round brush or flat iron).