Keratin Zero Uno Cream Active Progressive Brush 1000ml Kostume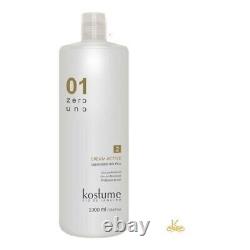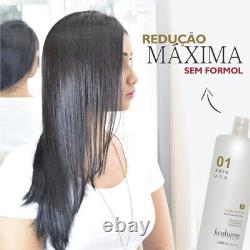 If in doubt, I'm available. Zero Uno Cream Active Progressive Brush 1000ml Kostume. 1 Cream Active Hair Equalizer 1000ml.
FREE FROM: Parabens, Petrolatum and Sodium Chloride (Salt). Makes an average of 15 applications. Its direct action on the cortex promotes the leveling of the fibrous filaments, increasing the resistance of the wires. Covers the cuticular layer, providing moisture retention. The action of heat (dryer and iron) memorize the smooth effect, hence the importance of carrying out the step by step.
Result: equalization of capillary relief, maximum reduction, immediate sealing and intense shine. See how simple the application of Zero Uno is. You can do it in the salon or at home. Zero Uno is very simple and practical to apply! Check out the step by step below.
After washing with an anti-residue shampoo, dry your hair 100%. With the help of a brush, apply the product on the entire length of dry hair (NOT ON THE HAIR LEATHER), from root to tip, lock by lock. Align the hair with the help of a fine comb. Wait for a break time of 40 minutes with a metallic cap for fine, delicate and blonde hair, 20 minutes break. For resistant hair, 60 minutes break. After this time, align the strands again, lock by lock, and rinse the product completely. Then, apply a smooth brush until you notice the shine of the wires. Flat iron in thin strands 10 to 12 times reduce the temperature of the flat iron in case of. Orders outside the United States. (Boxes, packaging, instructions, ETC) Everything we send needs to come back. No physical damage will be accepted!!