INOAR Brazilian Moroccan Keratin Keratin and Shampoo, Hair Straightening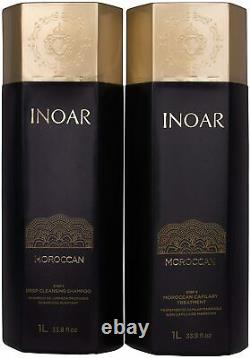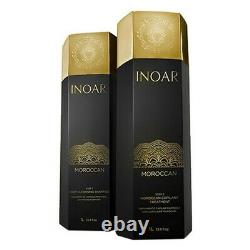 INOAR Brazilian Moroccan Keratin Keratin and Shampoo, Hair Straightening. Inoar Brazilian Keratin Moroccan Treatment Blow Dry Hair Straightening. SUITABLE FOR ALL TYPES OF HAIR, ESPECIALLY FOR THOSE CHEMICALLY TREATED BLEACHED, DAMAGED AND FRAGILE. RESTORES DAMAGED AREAS AND REDUCES THE VOLUME DRAMATICALLY. WITH A BALANCED PH 7.5 8.5, COCOA EXTRACT AND KERATIN. KERATIN TREATMENT REDUCES THE VOLUME AND STRAIGHTENS 100% WITH LONG LASTING RESULTS (UP TO 3 MONTHS). Quality Products at Lowest Prices. Lowest Prices for Good Products. The exclusive The Moroccan Treatment rebuilding formula is composed of keratin, white clay, and cocoa oil designed to treat and straighten damaged or curly hair in an efficient and long-lasting manner. In addition to repairing damaged hair, the product reduces volume by 80 to 90 percent, on average. The product can be used on'virgin' hair or may be used over other relaxing or common straightening treatments, leaving hair looking straight and hydrated. This treatment allows you to wash the hair or tie it down on the same day of treatment. Duration is about three months.
The secret of a great treatment and straightening is on the professional application combined with the a great product. Formula Active Ingredients Keratin, White Clay and Cocoa Oil.
For all hair Types In addition to repairing damaged hair, the product reduces volume by 80 to 90 percent, on average. The treatment can be used on virgin or chemically treated hair, over other relaxing or straightening treatments, leaving hair straight and hydrated. 1 Wash hair using special shampoo. Dry 80% of hair with blow dryer? 2 Place a sufficient amount of the treatment into a bowl for easy access. 3 Apply the product with a brush starting about 0.5 inches from the scalp. 4 Dry the hair completely with the blow dryer at the medium setting. It is NOT necessary to brush the hair straight. 5 Apply the flat iron at 356 Fahrenheit into small sections, at least 7 to 10 times in each section in order to seal particles completely. 6 If desired, complete the process with a brush.
You may wash or secure the hair within one hour. Formula Active Ingredients Keratin, White Clay and Cocoa. Brazilian Hair Products was established in 2011 and we are located in London, United Kingdom.
As one of the leading online hair care, hair products beauty products distributor and retailer across the UK and Europe, we provide a wide range of hair extensions products and over 40 successful beauty and hair care products. Eternity Liss is one of the and the only company that owns the Original Brazilian Keratin Treatment in the World. The powerful formula of the reducer is designed with a special technology which provides high moisturizing and extraordinary softness. The innovation your hair deserves.
In 2013, Eternity Liss recently changed its visual identity, which is now more modern and attractive. And a new visual identity was created to speak directly with hair stylists worldwide. In an easy and intelligent way.
Providing information clearly and improving technical training to all professionals. Now Inoar is completing 9 years and its history involves millions of satisfied professional hair stylists, women that changed their looks and their lives completely, hundreds of people that improved their standards of hair beauty. Brazilianhairproductsonline nowaday is an innovative company, applying a unique market vision to deliver innovative, safe and effective hair products.
Brazilianhairproductsonline has pioneered the Original Moroccan Brush products and many other special product lines for Hair Treatment, Brush and Hair Straightening, Brazilianhairproductsonline also includes a hair Finishing Line, Hair Maintenance Kit, and additional products that are focused on the final user, such as Shampoo, Conditioner, Leave-in and Mask. Brazilianhairproductsonline cares about our world, our consumers and our dedicated hair professionals.
Our product development professionals are continually developing high-end professional use hair products to reduce the time spent by the professional while maximizing the consumer results. In recent months we have started to meet the growing needs of our customer's base, by supplying in addition Hair extensions and increasing hair care range. We are always happy to help. To all of you, from all of us at Brazilian Hair Products Online - Thank you and Happy shopping!
We want you to love your brazilian hair item. Also Please attached three pictures of the product in differents angles where I can see that the product hasn't been opened and also another of how you received the parcel and in what condition. Item must be in its' original packaging and in perfect, unused condition.
If you have receive a product that has leaked or has a damaged we expecting you to report it sort after you receive it. The supply pictures of the product as you received and focus on the damaged or leaked part that you be helpful to determine what the error was and how can we resolve it as soon as possible.
We don't accept return over used products under any circumstance. Please make sure you understand the instruction clearly before you start the application process.
The allows your package to get its destination quicker and safe. If you package has been send to a local depot to be collect it by you but after days you never collect it the package will be send back to us. Get in touch with us. This item is in the category "Health & Beauty\Hair Care & Styling\Relaxers & Straightening Prod". The seller is "brazilianhairproducts" and is located in this country: ES.
Whta Would you Like to Buy?: 2 X 1 Litres Shampoo and Keratin
Formulation: By your own choise
Styling Effect: Anti-Frizz, Smoothing/Straightening
Product Line: INOAR
Hair Type: Curly Hair, Damaged Hair
Type: Keratin Treatment
Features: Contains Minerals, Contains Vitamins, Cruelty-Free/No Animal Testing, Fair Trade
Active Ingredients: Formaldehyde
Ingredients: Keratin
Brand: INOAR
Suitable For: Hair