BTX Blow Locks Blonde Thin Damaged Smoothing Capliar Btox Hair Treatment 10 oz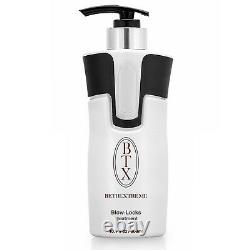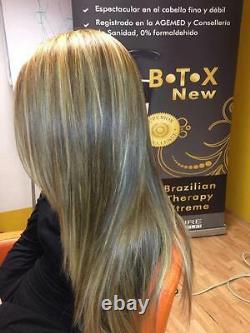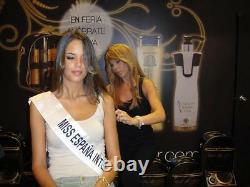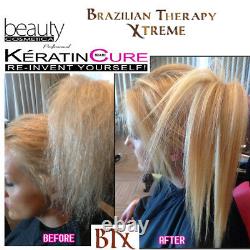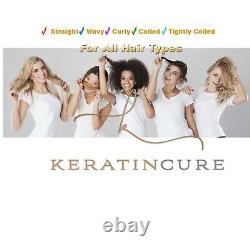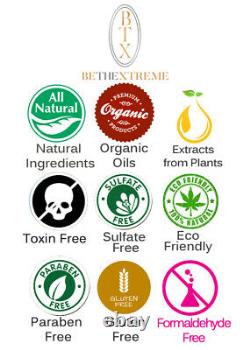 THIS BOTTLE CAN SERVE 5 AVERAGE HAIR TREATMENTS. This product is available in the following sizes: 960ml/ 32 fl oz. All Keratin Cure products are highly concentrated so very little goes a very long way.
AUTHENTICITY - PROTECT YOURSELF AGAINST COUNTERFEIT! For any Keratin Cure Items!
B O T O X HAIR TREATMENTS ARE RUNNING. BRAZILIAN THERAPY XTREME HAS BEEN UPGRADED TO BE THE EXTREME!! AMAZING NEW BENEFITS FOR HAIR AND SCALP. Treatment Formulation is designed to straighten hair, removes frizz and add shine silkiness and softness to your hair - results are instant. BTX smoothing is composed of Complexes of Essential Oils, Keratin Amino Acids, Glyolic Acids, and BTX features a delightful new fragrance. It's specially is to treat and straighten damaged or curly hair in an efficient and long-lasting manner. In addition to repairing damaged hair.
The product can be used on'virgin' hair or may be used over other relaxing or common straightening treatments, leaving hair looking straight, shiny and hydrated. This treatment allows you to wash the hair or tie it down on the same day of treatment. Duration is about three months and much longer the more that the treatment is used. Keratin Cure's BeTheXtreme Blow-Locks Hair Treatment is an innovative Glycolic based Formaldehyde Free Smoothing Treatment. Repair, Rebuild, Rejuvenate and Smooth your clients' hair with our exclusive treatment.
We guarantee that you will be more than amazed at the fact that you will have absolutely no fumes during the application of this product! Most have reported that there are NO color changes! We have combined the best nurturing and repairing essential oils into our treatment, to not just deliver smoothness but also help rebuild and repair over-processed and damaged hair. 0% formaldehyde, parabens, phthalates, sulfates, sodium chloride.
This product is for Professional Use only. The secret for great treatment. The secret of a great treatment and straightening is with a professional application combined with the a great product. Focuses on restoring lost protein into the hair, strand by strand. From the root to the ends, each strand is left straight, shiny, soft, and manageable.
BeTheXtreme Blow-Locks is wonderfully designed specifically for dull, over processed, lifeless hair. This is a texture changer as well as life changer as your clients will walk out with the hair of their dreams. How to make BeTheXtreme Blow-Locks Treatment work for you? BeTheXtreme formaldehyde-free Blow-Locks Treatment has a brand new formula that transforms damaged, dull hair by delivering crucial nourishment to each hair strand. The hair could range from fine to coarse textures to deliver a salon beautiful finish to your client's hair every day.
The duration of time allowed on the hair before rinse is a way to customize each treatment, ensuring ultimate results for every hair type. BeTheXtreme Blow-Locks has a complex mix of amino-acid blend targets the hair at its core, repairing built-up damage from the inside out. Brings back the youth and reverses the aging effects of daily styling and promotes healthy hair growth.
Humidity-blocking fatty acids infuse deep in the cuticle for im proved texture, shine and manageability. Ingredients: Deonized Water, Glycolic Acid, Glyoxyloyl Carbocysteine, Hyaluronic Acid, Behentrimonium Methosulfate, Cetearyl Alcohol, Cyclopentasiloxane, Cetrimonium Chloride, Hydrolized Keratin, Disodium EDTA, Fragrance, Phenoxyethanol, Dextran Palmitoyl, Hexapeptide-19, Silk Protein, Black Caviar, Organic Coconut Oil, Organic Argan Oil, Organic Hemp Seed Oil, Oraganic Marula Oil, Organic Peppermint Oil, Butyl Methoxydibenzoylmethane (UV Protector).
What is the active ingredient in the product that takes the place of formaldehyde? What makes the hair straight? Glycolic Acid can most easily penetrate the shaft of hair. In addition, glycolic acid also most easily affects keratin, the fibrous protein in hair that helps protect strands from damage and contributes to hair growth and length. This ingredient has an ability to interact with keratin makes hair stronger and less likely to break. Broken strands are the main culprit of frizzy, flyaway hair. Cetrimonium chloride is a conditioning agent is mainly used to prevent static and buildup in hair. Organic Glycerin attracts water from the atmosphere bringing moisture to the hair and ultimately improves moisture retention and promote ridding yourself of dry, thirsty hair. Hydrolyzed Keratin creates a protective barrier on the hair while simultaneously imparting shine. Hydrolyzed keratin has also been shown to replenish the hair and skin with moisture while also improving the skin's elasticity. Because of its moisturizing properties, shampoos and conditioners containing hydrolyzed keratin are a favorable option for those with limp, dry and brittle hair. Shampoos and conditioners with hydrolyzed keratin are also great for making unruly hair more manageable. Organic Black Caviar rehabilitate and preserve the structure of the hair. Based on silk protein enriched with black caviar. Also contains anti-oxidant herbal essences (pomegranate and green tea) to protect the hair´s texture from weather damage, and a special silicone complex to provide a protective coating. Organic Coconut Oil is a natural antibacterial and anti-fungal cleanser and moisturizer and that also prevents hair loss.
Marula oi l helps your hair to get the nutrients it needs to be moisturized. This also helps to keep it safe from heat damage from the sun or hair-styling devices. Organic Argan Oil hydrates, strengthen and smoothens hair. Helps protect the hair from heat damage as well as environmental damage. It works to prevent dandruff and boost growth, argan oil for hair also improves shine and thickens each individual strand.
Organic Hemp Seed Oil is packed with lipids, which add moisture and shine to your hair. The oil helps to strengthen fragile strands, give your hair body and may even make your hair thicker. It can also help promote new hair growth and prevent hair loss from taking place. Organic Peppermint Oil can benefit both hair and scalp and can offer one of the fastest methods for fixing hair issues and can provide a soothing and healing way to get the natural skin balance back to hair follicles and skin. Silk Protein: Adds luster, body and manageability to hair, known for its highly moisture binding capacities & provides a protective barrier around the hair shaft. Derived from one of the strongest natural fibers in the world. Instructions:-Shake Bottle Well - Formula is a creamy liquid 1. Wash the hair twice with BTX Clarifying Shampoo.
Rinse well and towel dry. Note: For very tight curls & virgin hair: Leave the BTX Clarifying Shampoo on the hair from 7-10 minutes to ensure that the hair cuticles are ready to receive the treatment.
Blow-dry hair with hair dryer with moderate heat to 80%. Apply Keratin Cure BTX Blow-Locks Treatment with a color brush section by section 1/4 inch / 6cm from root. Comb the solution through the hair entirely. Leave the treatment for 30 minutes for normal hair, 50 minutes for wavy/frizzy hair, 55-75 minutes for thick very curly hair.
Rinse hair thoroughly and completely. BTX Smoothing Mask and leave on for 5-10 minutes and rinse out completely. BTX Hair Serum sparingly throughout the hair. Blow-dry hair 100% using your hair straightening techniques. Keratin Cure straightening iron at 440°F/230°C.
Iron each section 4-7 times to properly seal the treatment into the hair cuticles. Iron very small portions of hair for best results. You are ironing clean hair! Use discretion on the hair type.
Fine hair may not require the hair to be ironed more than 3-4 times. Please start the iron at 400°F/ 180°C and watch the texture. BTX Treatments are a cumulative process, the more frequently you maintain the treatment, the longer it will last in your hair and the better the results.
Please advise the client to maintain their treatment with the corresponding post treatment Shampoos & Conditioners which will balance proper pH levels and protects hair color. This item is in the category "Health & Beauty\Hair Care & Styling\Relaxers & Straightening Prod". The seller is "keratincure" and is located in this country: US. This item can be shipped worldwide.
Country/Region of Manufacture: United States
Department: Adult, All Ages, Men, Teen, Unisex, Women
Custom Bundle: No
Formulation: Cream
Styling Effect: Anti-Frizz, Smoothing/Straightening
Product Line: BTX
Hair Type: All Hair Types, Coarse Hair, Color Treated Hair, Curly Hair, Damaged Hair, Dry Hair, Fine Hair, Frizzy Hair, Normal Hair, Oily Hair
Type: Brazilian Blowout/Keratin
Features: Alcohol-Free, Ammonia-Free, Contains Argan Oil, Contains Glycolic Acid, Contains Sun Protection, Contains Vitamins, Cruelty-Free/No Animal Testing, Formaldehyde-Free, Paraben-Free, Sulfate-Free, Vegan
Hair Color Type: All
Expiration Date: 36 months
Active Ingredients: Glycolic Acid
Product Type: Hair Treatment
Model: BTX3
Proof of Authenticity Provided: Seller is actual brand manufacturer
Benefit, Hair Type: All Hair Types
Gender: Unisex
Volume: 10 fl oz
Ingredients: Argan Oil, Keratin
Brand: BTX
Suitable For: All Hair, 2A Hair, 2B Hair, 2C Hair, 3A Hair, 3B Hair, 3C Hair, 4A Hair, 4B Hair
UPC: 855550003366