Brazilian Keratin Treatment & Straightening Progressive 1 Liter The best product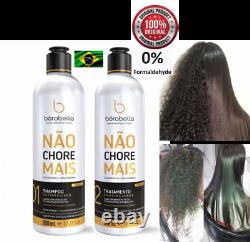 ENCANTOS do Brasil: The best genuinely Brazilian brands. Try and have great results, leave your hair super silky, smooth and shiny.
Various options make your choice. Genuine Brazilian products 100% original. Borabella Progressivas Don't Cry More 2x1000ml 33.81fl.
Some customers reported results similar to those of the Cadiveu Plastica dos Fios. The progressive Não Chore Mais is currently considered one of the best in the market, as it painlessly provides 100% aligned, disciplined, loose, light, soft hair, with intense salon shine, controlled volume completely eliminating frizz and even the most rebellious strands. Its innovative formulation contains modern low molecular weight actives that work by restructuring the cortex and reorganizing the cuticles, in addition to completely treating the hair.
All this thanks to the blend of exclusive assets called BioComplex formed by Hyaluronic Acid + Glutamic + Aspartic + 19 Amino Acids + Silk Protein + 2 Coconut and Ojon Oils. In several tests carried out, the progressive Não Chore Mais, stood out from the best progressive ones in the market in several points such as. Does not cause burning, tears or discomfort during application. Really Perfect and Natural Straight. Color protection, reduces fading dark tones, and prevents yellowing of blond tones. Superior smoothing power even of Progressives with Formaldehyde. High durability of the smooth effect for up to 4 months.
Dual Color pigment, can be used in all hair colors, including blondes and locks. Replenishes hair mass and restores strength to the hair thanks to proteins and amino acids. Hydration and Shine Intense Salon Gloss. Does not dry out ends or damage the wires, unlike Nutri e Repara. Longer board durability, as you do not board with the product in your hair.
Softer, Loose, shiny hair with movement, balance and naturalness. Compatible with all other progressive brands on the market. Wash 2 times with the anti-residue shampoo, massaging gently without damaging the wires.
Then rinse, remove excess water with the towel without rubbing and dry 70% with the dryer. With slightly damp hair, apply the product using a brush, glove and a fine comb to distribute the tips evenly from the root, always avoiding the scalp. Leave on for 40 minutes for fine, easy, lightly wavy, streaked or bleached hair. 60 minutes for virgin hair, very wavy, thick or curly. 90 minutes for afros, thick and difficult.
Blond hair or with highlights of shades below 8 will turn slightly bluish, but don't worry when you plan your hair, the tone will change to tinted blonde. After the pause, rinse the product 100% with water only, dry the hair completely with the aid of the dryer, making a quick brushing to align the strands. Plank in very thin strands with original Professional Plank with Inmetro seal at the actual temperature of 230 ° C or 450 ° F 12 to 15 times for easy, thin, colored or bleached and blond hair. 15 to 20 times for virgin, thick and curly hair.
20 to 30 times in African hair and very difficult. Hair with a lot of color: observe how many planks the fading will start and stop, adopting this amount to do everything else. After the Plank process is finished, the hair will be ready sealed, soft and shiny.
Use our capillary oil if you wish. Warnings: Do not use on hair with shades equal to or greater than 9 , very light blond or white. Perform the Wick Test mainly on weak, thin, discolored, dry or fragile hair by chemical processes in the past. Tyrrel Oxireduct / Reductblond Straightening Brazilian Blowout Keratin Progressive. Progressive Tyrrel Oxireduct Thermal Alignment Without Formaldehyde 1L.
Is an organic treatment enriched with a complex of amino acids, vitamins, rice proteins and quarternary keratin, which acts on the hair fiber, softening them and thus facilitating the perfect alignment of the hair strands. Technology present in the composition. Apply Oxireduct over the entire length of the hair, respecting 0.5 cm from the root; Respect the break time. Then brush and plank in the following proportions. Blond Hair: plan 10 to 15 times at 180º. Normal Hair: straighten 15 to 20 times at 215º. Resistant Hair: (ringed and virgin) straighten 20 to 25 times at 230º. Blond Hair: Pause for 10 to 30 minutes. Normal and wavy hair: Pause for 40 to 60 minutes. Resistant Hair (curly, virgin or Afro): Pause for 60 to 90 minutes (cover the hair with a plastic cap to enhance the action of the product, but only on resistant hair and able to perform the procedure).
Perform the wick test and touch test. Aqua, Cetrimonium Chloride, Cetearyl Alcohol, Propylene Glycol, Behentrimonium Methosulfate, Hydrolyzed Rice Protein, Cyclopentasiloxane, Ceteareth-20, DMDM Hydantoin / Dipotassium EDTA / Keratin, Urea / Sodium PCA / Sodium Lactate / Fructose / Lactose / Panthenol / Arginine / Serine / Proline / Glycine / Phenoxyethanol / Gelatin / Glycerin / Honey, Parfum / Coumarin / Hexyl Cinnamal, Oxalic Acid / Glyoxylic Acid / Glyoxal, Methylchloroisothiazolinone + Methylisothiazolinone, Disodium EDTA.
Tyrrel Reduct Blond Non-Formalive Progressive Brush for Blondes 1L. Advanced Thermal Alignment RedutctBlond Tyrrel Pro was developed with active nanotechnology with high penetration into the hair fiber, promoting cuticular cell alignment, regenerative action preserving the integrity of the hair fiber.
Promotes anti-frizz action, the complex of vegetable and essential oils is rich in emollient and nourishing agents that restore the natural flexibility of the strands. Formula enriched with a blend of amino acids that, under the action of heat, provide cuticular alignment and stabilizes the pH of the hair. Aqua, Cetearyl Alcohol, PEG-90M, Cetrimonium Chloride, Propylene Glycol, Stearamidopropyl Dimethicone, Behentrimonium Methosulfate, Hydrolyzed Rice Protein / Phenoxyethanol, Ceteareth-20, Cyclopentasiloxane, Lactic Acid, Theobroma Grandifea Polyquaternium-7 / Sericin / Behentrimonium Chloride / Caprylyl Glycol / Guar Hydroxypropyltrimonium Chloride, Cinnamonium Zeylanicum Bark Extract / Acorus Calamus Root Extract / Commiphora Myrrha Resin Extract / Olea Europaea (Olive) Fruit Oil / BHT, Arginine Cine / Serine / Glycine / Glycerin / Panthenol / Hydrolyzed Corn Protein / DMDM Hydantoin, Parfum / Alpha-isomethyl Ionone / Linalool, Diptassium EDTA / Keratin, Glyoxylic Acid / Glyoxal, Methylchloroisothiazolinone + Methylisothiazolinone, Acidetetzolinone, Acidetetzolinone. Progressive Brush Zap Collagen Thread Smooth Plastic Rich Collagen and Keratin 1 liter 33.81fl. CollagenoPlastia is a perfect treatment for you to bring youth to your hair, rich in Collagen and Keratin, it causes the hair an intense shine, flexibility, strength, softness, hydration and alignment.
Ideal treatment for brittle, lifeless and very damaged hair. Contains: 1 Intense Cleansing Shampoo: Deep Cleansing for hair, removes all residues that leave hair dull, dry and lifeless.
1 Absolute treatment mask: Specially formulated to take a deep treatment to the hair, it reconstructs the entire hair fiber, bringing alignment in the hair with natural effect. Rich in collagen, it brings youth to the hair, providing more strength, resistance and protection to the hair, freeing it from damages caused by excessive chemical procedures. Application: After wetting the hair, apply a portion of Shampoo, gently massaging the hair, massaging the root and the entire length of the hair. Repeat the process for two more times, as soon as cuticles are opened, rinse thoroughly. After the hair is cleansed by the Shampoo and dried with a dryer, divided into 4 parts, apply the Mask evenly over the entire length of the strands, covering the strand, aligning it with a fine comb from the roots to the ends; With a dryer, alternating cold air and hot air, dry the hair and plank in thin strands; Rinse thoroughly.
Result Aligned hair, with a natural movement, intense shine and incomparable hydration. Perfect Thread Progressive Brush Professional Kit 2x1Liter. AUTHORIZED Dealer: With this you can be sure that you are purchasing the legitimate Fioperfeitto Cosmeticos straightening and treatment products. The Fioperfeitto(Perfect Thread) Profissional thermal treatment is one of the best known treatments when it comes to hair straightening. This kit consists of two products, a Deep Cleansing Shampoo and a Thermal Treatment.
Indicated for all types of hair and compatible with any type of chemical, it promotes hair realignment, volume reduction and an immediate smooth effect on the hair. This progressive brush eliminates frizz while moisturizing, nourishing and rebuilding hair fiber. The Fioperfeitto(Perfect Thread) Profissional thermal treatment has an effective formula with actives from açaí, oat and aloe vera together with an association of amino acids and keratin that align and smooth the hair for a long period. Apply Fioperfeitto Deep Cleansing Shampoo to wet hair, gently massaging and rubbing the entire length of the strands. Rinse thoroughly, repeat this process 2 (two) more times.
In the last application, let it act for 15 (fifteen) minutes. Rinse thoroughly until all excess is removed. Divide the hair into four parts and apply the Fioperfeitto Thermal Treatment all over the hair, starting at the nape of the neck, lock by lock at a minimum distance from the root. Allow to act between 10 (ten) and 20 (twenty) minutes. After total application of the product, dry the hair completely, with the aid of a dryer.
Using a brush, align the strands and remove the small knots. Finish the procedure by straightening the hair between 8 (eight) and 15 (fifteen) times per lock. Allow all your hair to cool and wash it off with your usual shampoo and conditioner. Finish as usual, with the aid of the dryer. Organic Okra Progressive Brush 2x1000ml.
WHEY PROTAIN CONCONUT BRAZILIAN KERATIN. The progressive Organic de Okra is the new launch of the company Fio Perfeitto.
The base of Okra, Whey Protein, Coconut and Keratin, promises to straighten any type of hair right from the first application. It has two steps, Anti-Residue Shampoo and Volume Reducing Mask compatible with all types of chemicals. Result: Perfect smooth and hydrated. With wet hair, apply a sufficient amount of Shampoo, gently massaging the hair, rubbing in the opposite direction of the cuticles along the entire length of the strands.
Rinse and repeat this process twice more, observing if there was any opening of cuticles, Rinse thoroughly. With the hair already cleaned by and blow-dried, divided into quadrants, apply the mask evenly along the entire length of the strands, lock by lock, with a fine comb felt from root to tip. With a dryer, alternating cold air and hot air, dry the strands completely and iron them into thin strands 10 to 15 times at a temperature between 180º and 230ºc. Progressive Yper Blend Mega Smoothing Formaldehyde Free.
Yper Blend Progressive Formaldehyde Free was specially designed to straighten the most resistant hair. Its formula is composed by Glioxylic Acid that promotes the reduction and elimination of frizz.
Progressiva No Formaldehyde Yper Blend Mega Smoothing is composed of a complex of 11 amino acids and hydrolyzed Keratin, thus providing a perfect smoothing without causing burning and smoke. Smooth and hydrated hair for much longer. Wash hair with anti-residue shampoo and dry 100%.
Divide the hair into locks and apply the Yper Blend Mask Without Formaldehyde, from root to tip. Start the process starting at the back of the neck, always respecting the 0.5cm distance from the scalp. Take a break of approximately 50 minutes (time may vary according to the degree of difficulty of the yarn). Remove 50% of the product with just water in the sink. Dry with a brush and iron into thin strands until you feel that the cuticles are sealed. Okra Felps Okra Xbtx Progressive Brush 1L 33.8fl.
FELPS XBTX QUIABO OKRA COMPLEXO SEALING - exclusive formula with a blend of acids, okra extract, argan and macadamia oils, which promote complete and long-lasting hair realignment, in a single phase. Natural smooth effect, volume reduction and frizz; hydration and intense shine.
Suitable for all types of hair. Free of formaldehyde and strong smell, does not cause burning eyes. 1- Divide the hair into 4 parts and secure them with the aid of barrettes. 2- Apply the FELPS XBTX QUIABO OKRA COMPLEXO SEALING, starting at the bottom and then at the top, in the entire length of the strands, evenly, always in thin strands, respecting the distance of 1 cm from the root (use gloves , brush and comb). 3- Let it act for 30 to 40 minutes (fragile and blond hair) or 60 to 80 minutes (thick and resistant hair). 4- After the pause time, remove the product 100% for best result. 5- Finish with the dryer, for faster straightening. If you prefer, plank 7 to 15 times, in thin strands. For hair with residues, a pre-wash is recommended. This product must be used for its intended purpose, being dangerous for any other use. Perform the strand test and touch. Do not apply in case of irritated or injured scalp. In case of contact with eyes, rinse immediately with plenty of water. For use in pregnant and lactating women, consult a doctor.
Use in children is not recommended. Keep in a cool place and out of reach of children.
If this is your case, please understand that this is beyond our control. The item "Brazilian Keratin Treatment & Straightening Progressive 1 Liter The best product" is in sale since Sunday, August 22, 2021. This item is in the category "Health & Beauty\Hair Care & Styling\Relaxers & Straightening Prod".
The seller is "tsidik19" and is located in London. This item can be shipped worldwide.
Country/Region of Manufacture: Brazil
Department: Adult
Custom Bundle: No
Formulation: Paste
Styling Effect: Anti-Frizz
Product Line: Wella Professionals
Unit Quantity: UN
Hair Type: Frizzy Hair
Type: Keratin Treatment
Features: Formaldehyde-Free
Active Ingredients: Free Formaldehyde
Unit Type: 100ml
Volume: 700 ml
Ingredients: Argan Oil
Brand: Borabella
Suitable For: Hair