Treatment Keratin 2x34oz Exo Hair Profissional Ultratech Exoplastia brazil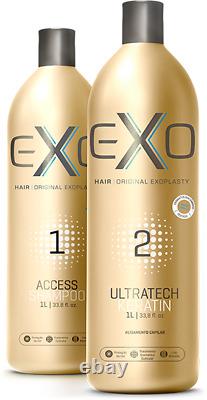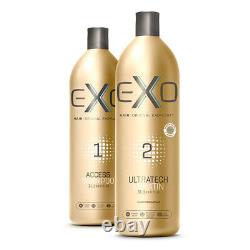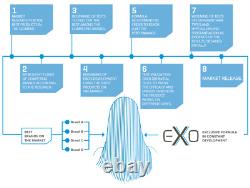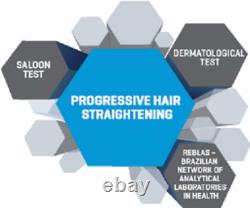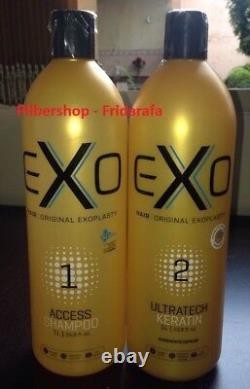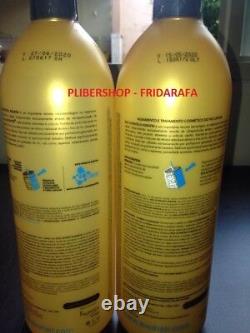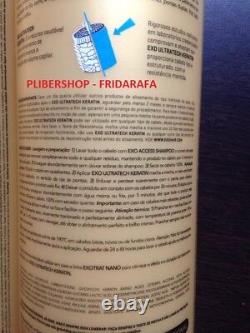 If in doubt, I'm available. PERFECT STRAIGHTENING WITH ABSOLUTE SLEEK HAIR. Compatible with any chemical procedures or hair dyes, EXO provides straightened effect for up to. If used according to the recommendations. WASH HAIR, WHICH IS NATURALLY ANIONIC (NEGATIVE), WITH ACCESS SHAMPOO, WHICH IS EVEN MORE ANIONIC (NEGATIVE). HAIR CUTICLE IS A SEMI-PERMEABLE LAYER.
KUP® PARTICLES MANAGE TO CROSS THIS BARRIER AND ENTER THE CORTEX. KUP® ELECTROSTATICALLY CHARGED PARTICLES ARE DRAWN AS "MAGNETS" TO THE PROTEINS IN THE CORTEX, FORMING A PROTEIN COMPLEX.
TIME REQUIRED FOR ABSORPTION OF KUP® BY HAIR FIBER. RINSING: REMOVES EXCESS OF FORMULA COMPONENTS FROM HAIR, LEAVING KUP® ADHERED TO PROTEINS. WITH THE FLAT IRON'S HEAT, THERE IS A FUSION BETWEEN CORTEX PROTEINS AND KUP®, SEALING THE CUTICLES, PROVIDING STRAIGHT AND VERY SHINY EFFECT TO HAIR. DISCREET INCREASE ON FINAL HAIR VOLUME, MORE STRUCTURED HAIR, SEALED CUTICLES, ALL-NATURAL STRAIGHTENING.
THE INNOVATIVE PARTICLE THAT BRINGS A NEW ERA IN HAIR CARE. EXO's team of researchers employed the latest technology to develop Kup®.
Due to the compatibility between active ingredient and substrate, Kup® electrostatically charged peptide particles are drawn as "magnets" to the cuticle surface, penetrating deeply into the hair. Kup® crosses the cuticle, strongly fixing to the cortex, and forms a protein protection and strengthening net inside and outside hair strand. ONE OF THE MOST RECOGNIZED AND CREATIVE RESEARCHERS IN THE WORLD IN THE COSMETICS AREA. 1 - WASHING AND PREPARATION. WASH HAIR WITH EXO ACCESS SHAMPOO AS MANY TIMES AS NECESSARY TO FULLY REMOVE ALL RESIDUE, KEEPING THE PRODUCT ON HAIR FOR 3 MINUTES ON THE LAST APPLICATION. RINSE WITH ABUNDANT WATER WITHOUT LEAVING ANY SHAMPOO LEFT. REMOVE MOISTURE COMPLETELY WITH THE AID OF A BLOW-DRYER. AFTER SEPARATING HAIR INTO FOUR SECTIONS, APPLY EXO ULTRATECH KERATIN LOCK BY LOCK, AT HALF A CENTIMETER FROM THE SCALP, FROM ROOTS TO ENDS.
GENTLY RUN A FINE-TOOTH COMB THROUGH HAIR TO DISTRIBUTE THE PRODUCT EVENLY. LEAVE THE PRODUCT ON HAIR FOR 30 MINUTES.
AFTER 30 MINUTES, RINSE HAIR WITH ONLY WARM OR COLD WATER UNTIL PRODUCT IS FULLY REMOVED. IMPORTANT: IN CASE OF MORE REBEL HAIR, IT'S POSSIBLE TO BLOW-DRY IT TO BETTER ALIGN THE STRANDS AND FACILITATE THE NEXT STEP.
USE A FLAT IRON ON COMPLETELY DRY, SLIGHTLY PULLED AND PERFECTLY ALIGNED THIN STRANDS, AT A TEMPERATURE OF 190 TO 230°C FOR AT LEAST 12 TIMES OR MORE, SLOWLY, ACHIEVING PERFECT HAIR ALIGNMENT AND INTENSE SHINE (NOTE: AVOID TEMPERATURES ABOVE 190°C IN BLOND, RED OR LIGHT HAIR). THERE IS NO NEED TO WASH HAIR IMMEDIATELY.
WAITING FROM 24 TO 48 HOURS BEFORE WASHING IT HELPS IN POLYMERIZATION OF KUP'S® PARTICLES. IT IS TOTALLY RECOMMENDED TO USE THE EXOTRAT LINE, IN ORDER TO OPTIMIZE THE FANTASTIC RESULTS OBTAINED WITH EXO ULTRATECH KERATIN. When can I wash my hair after the procedure with EXO ULTRATECH KERATIN? There is no impediment to wash your hair immediately after this procedure. However, we suggest that you avoid washing it for 48 hours for better fixation of KUP® to the hair cortex.
Can I tie my hair immediately after procedure with EXO ULTRATECH KERATIN? Yes, as long as the hair is dry, you can tie it normally. It is not recommended, in any hair type, to tie it while wet, as it is not healthy for the strands.
What makes EXO ULTRATECH KERATIN the best choice among other products on the market? EXO ULTRATECH KERATIN was developed by a multidisciplinary team of chemists and doctors, assisted by highly qualified hairdressers.
All formulations were designed mainly to make procedures safe and effective, always seeking the reproducibility of results. What is the active ingredient in EXO ULTRATECH KERATIN? KUP® is a peptide derived from collagen.
This molecule undergoes a particle-formation process (millionth-part of a millimeter particles) and is electrostatically positively charged (cationic). In short, it's a tiny molecule that, due to being electrostatically positive, crosses the cuticle and restructures the cortex. It gives a straight effect after the use of a flat iron for thermal activation. KUP's® molecules cross the cuticle barrier, penetrating the cortex.
They bind naturally to strand's protein structures and form a polymeric network that restructures hair strand and natural hair mass lost by everyday chemical procedures and by the action of time. After the thermal activation with a flat iron, the hair will take the form desired by the professional. What is the main advantage of using this technology instead of others on the market?
EXO ULTRATECH KERATIN allows you to remove product excess from hair before using the flat iron. Therefore, the client does not need to wash the hair immediately after the application, leaving it loose and odorless. Also, it significantly minimizes the chance of any hue change.
Is EXO ULTRATECH KERATIN Chemical Relaxing? EXO ULTRATECH KERATIN is not chemical relaxing, as it doesn't break the hair's sulfur bridges and doesn't require neutralization. Neither does it waterproof the hair as Keratin Procedures with Formaldehyde do. The straight effect is given by the action of the flat iron's thermal activation on KUP's® restructuring molecules. It is a capillary reconstruction that molds hair according to the professional's choice. Does EXO ULTRATECH KERATIN neutralize a relaxation procedure? EXO ULTRATECH KERATIN is compatible with all kinds of relaxation procedures.
It can even be used shortly after any relaxation process, as long as it is completely neutralized. In these cases, you can apply EXO ULTRATECH KERATIN immediately after the neutralization, without the need to wash with Access Shampoo. Can EXO ULTRATECH KERATIN be applied in chemically processed or dyed hair?
EXO ULTRATECH KERATIN is compatible with all kinds of previous procedures, such as guanidine, ammonium thioglycolate, soda, etc. It can also be used on dyed hair with oxidation or deposit dyes, colorful strands, highlights, and even on hair with no previous procedures (virgin hair). We always recommend a strand test before the procedure so that the client visualizes the result he/she will experience on the entire hair. Can EXO ULTRATECH KERATIN be applied on relaxed, permed hair or after Keratin Procedures?
EXO ULTRATECH KERATIN can be used after any previous chemical procedures. For how long does EXO ULTRATECH KERATIN leave hair straight, soft and cared?
For an optimal use of this technology, we suggest that the professional observe carefully some technical application details that will positively influence the result: Application technique: the technique must be followed correctly by the professional so that effect and durability are satisfactory. Unique hair type: virgin, thicker and wavy hair are typically the hardest to straighten and may have a lower durability on first application. On the second application, the effect tends to be similar to easier hair. In chemically processed hair or with colorful strands and oxidation dyes, the results last longer; Maintenance at home: it is essential to use a line of products at home compatible with EXO. We recommend Exotrat, because it nourishes the hair and mantains the straight effect for a longer period; Washing frequency: as in any other type of hair straightening, constant washing can influence the duration of the effect.
As customers with oily hair wash hair more frequently, it tends to have a shorter durability than in cases of dry hair, which is washed less often; Weather conditions: in places with drier weather and less brackish water, durability tends to be longer, as in any other type of hair straightening. How long is the procedure? On average from 2 to 3 hours, depending on the length, volume and hair type.
Does EXO ULTRATECH KERATIN change hair color? On bleached hair or with oxidative dyes, it is not recommended to exceed the temperature of 200ºC (390ºF), in order to avoid or minimize hue changes. We recommend performing a temperature strand test, starting at 180ºC. If there is no change, increase the temperature gradually. Use the highest temperature possible that will not cause changes in hair coloring.
Should EXO ULTRATECH KERATIN be used before or after coloring? Risk of losing any nourishment degree. How long after the first application can I repeat the procedure with EXO ULTRATECH KERATIN? EXO's effect lasts on average from 3 to 4 months. However, in case of any technical problems during the application causing an unsatisfactory result, it can be reapplied immediately. In this case, always start re-application by washing with the shampoo and following the original step-by-step.
Which products can I use after procedure with EXO hair to obtain maximum durability? To optimize the procedure outcome, we have developed Exotrat, a specific line for daily use.
It is strongly recommended to use it if you want longer durability and quality in the exoplasty result. Are the Exotrat Home maintenance products different? Besides not having any salt in its composition, it has advanced hair-conditioning molecules. They nourish and keep the straight effect for a longer period.
On my next application of EXO ULTRATECH KERATIN, do I need to retouch only the roots? As it is a hair reconstruction procedure, EXO ULTRATECH KERATIN should be applied throughout the length of the hair from roots to ends. Can EXO ULTRATECH KERATIN be used on pregnant women? We recommend, due to medical ethics issues, that pregnant women not perform any kind of hair straightening.
Except with prior written authorization by the attending physician, once aware of the components of the formulation. Can EXO ULTRATECH KERATIN be used on children? It can be used on children older than 12 with the proper authorization of an adult.
There is no formal contraindications to the use of EXO ULTRATECH KERATIN. What comprises the EXO ULTRATECH KERATIN kit? The EXO ULTRATECH KERATIN kit consists of 2 products - Access Shampoo and ULTRATECH KERATIN - in flasks of 1 L. How many procedures can I perform with one EXO ULTRATECH KERATIN kit?
On average, every liter yields 18 to 20 procedures, depending on volume and hair length. Orders outside the United States. (Boxes, packaging, instructions, ETC) Everything we send needs to come back. No physical damage will be accepted!!! This item is in the category "Health & Beauty\Hair Care & Styling\Relaxers & Straightening Prod".
The seller is "fridarafa" and is located in this country: BR. This item can be shipped worldwide.
Country/Region of Manufacture: Brazil
Custom Bundle: No
Styling Effect: Anti-Frizz, Smoothing/Straightening
Hair Type: All Hair Types
Type: Brazilian Blowout/Keratin
Features: Formaldehyde-Free
Gender: Unisex
Active Ingredients: Potassium Hydroxide
Modified Item: No
Non-Domestic Product: No
Ingredients: Keratin
Brand: Exo
Suitable For: Hair