Keratin U Tip Hair Extensions Human Hair Pre Bonded Fusion Remy Hair 16-26inch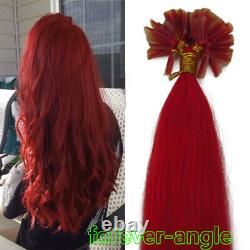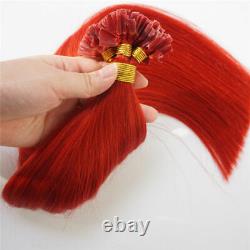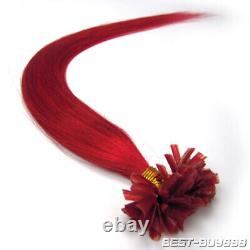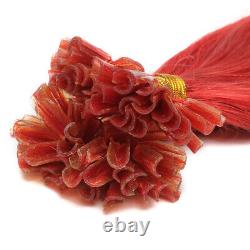 Keratin Fusion Glue U Tip Hair Extensions Nail Tip Real Human Hair Full Head 1g/s 16-18-20-22inch 50-100strands each pack. Extension Hair Type: 100% Remy Human Hair, Real Natural hair, Silky Softy Smooth Straight, Top Quality, Various Choices of Colors. We guarantee 100% real REMY human hair.
High quality, very competitive price. Colours may look little differently on each monitors. 100% High Quality Keratin U-Tip Human Hair Extensions Silky, Soft, Tangle Tree.
Pre Bonded keratin nail tip hair extensions can be easily remove without any damage to your own hair. Limitless Styling Possibilites Blow-drying, Straightening, Curling or Braiding - Enjoy the benefits of real human hair extensions and create your very own hairstyle. Extra small U-tip (nail) bondings made of high-quality italien keratine for long and gentle durability 6. 100% of Real Human Hair MADE Which can be dyed, curled, straightened, washed like our own hair.
Pre Bonded U TIP HAIR EXTENSIONS. U-tip (nail-tip) hair extensions are pre-bonded using high quality Italian Keratin to provide the strongest attachment and the longest lasting effect Keratin is the safest, natural bonding agent and will not cause the slightest damage to your natural hair The keratin, when melted with a Heat Connector, allows to fix the hair extensions to your own hair and therefore lengthen your hair and increase its volume This traditional technique is popularly used by professional hairdressers. During manufacture, alignment of the natural hair cuticles is kept, which greatly reduces tangles and mimics natural hair flow, and therefore it ensures a more natural blend with your own hair The nail tip hair extensions are dipped in high quality keratin hair extension glue at the tips This is the safest hair bonding glue and can be removed without damaging your natural hair using keratin remover. Specification: Extension Type: Pre-bonded keratin/U-Tips human hair extensions Hair Length: 16inch 18inch 20inch 22inch Extension Weight: 1g/Strand, 50s/pack, in total 50g/pack, 100Stands 100gram. 16inch50gr50strands, 18inch50gr50strands, 20inch50gr50strands, 22inch50gr50strands, 16inch100gram100s, 18inch100gram100s, 20inch100gram100s, 22inch100gram100s.
Black, 1B Natural Black, Dark Brown, Medium Brown, 06 Chocolate Brown, Light Brown, Ash Blonde, Medium Blonde, Dark Blonde, Light Blonde, Platinum Blonde, Grey, Blue, Purple, Red, Pink, Burgundy Red, 99J Wine Red, P4/27 Medium Brown with Dark Blonde, P4/613 Medium Brown Mix Light Blonde, P12/613 Light Brown Mix Light Blonde, P18/613 Ash Blonde Mix Light Blonde, P27/613 Dark Blonde Mix Light Blonde, Ombre Color T1/613 Black to Light Blonde, Ombre Color Black to Gray, Ombre Color T2/12 Dark Brown to Light Brown, Ombre Color T6/20, Ombre Color T12/613 Light Brown to Light Blonde, Golden Blonde. INTEGRATION The hair extensions strands can be attached by means of a heat-clamp or an ultrasonic connector. This method is particularly distinguished by their long wearing period of up to 6 months. Afterwards the strands can be removed easily using a Hair Extension Remover and special pliers. We are Hair Factory with more than 10 years Experience.
With Steady product Quality and strict Quality Control. You can not find better hair than ours. Thank you for choosing us.
We will offer you best customer service.