Inoar Moroccan Brazilian Keratin blow dry 1 LITER to straighten Hair Kit 1 LITER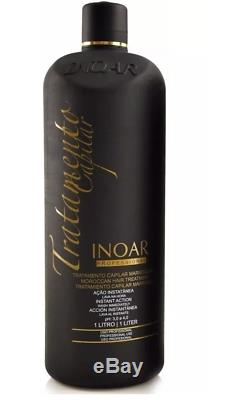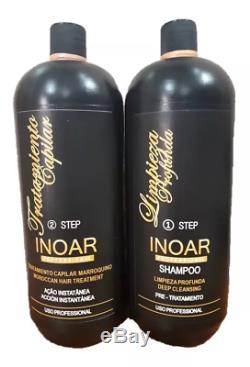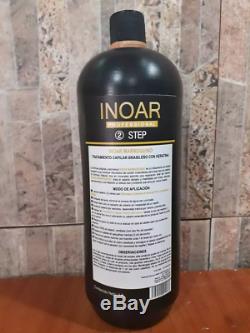 The INOAR Moroccan Straightening Kit is indicated for those people who have curly and / or frizzy hair and want a smooth, smooth, balanced hydration hair straightening that provides deep repair in the weakest parts. For approximately 4 months the hair will be straight, without frizz and frizz, very bright and with its ends fully closed. Hydrate - Restaura - Strengthens - Alisa - Repair Also known as Brazilian straightening, INOAR Moroccan Straightening, who has curly and frizzy hair, can now wear it straight, although he can have it curly when he wants and return it to the plain again (without using the iron). In addition, this hair straightening from INOAR takes care of the health of the hair because it restores the keratin, giving it more body, strength and silkiness.
In the exclusive formula of this smoothing are, mainly, Hydrolyzed Keratin, White Clay and Cocoa Butter. Its composition, which is also rich in mineral salts, smooths, repairs hair that has been damaged and regains its natural beauty. This treatment is manufactured since 1991, being the first line of INOAR.
The effect of INOAR smoothing is a natural smooth and is approximately 80%. Depending on the hair you can straighten a little more or a little less, but you have to take into account that it is a progressive treatment and in the successive applications the results are always optimized.
The lasting effect is at least 3 months, with some cases that can last 6 months or more depending on the structure of the hair. The effect of repairing damaged hair will also be observed, as the treatment seals the split ends, provides more body, strength and silkiness. It remains unchanged with moisture, docile and very bright. Treatment consisting of two steps. / - Deep Cleansing Shampoo (step 1): With its pH balanced, cocoa extract and hydrolyzed keratin, clean by removing impurities from the hair, preparing it to receive the reducing ingredients of the Treatment (step 2). / - Volume Reducer (step 2): The Inoar Moroccan Hair Treatment is composed of hydrolyzed keratin, white clay and cocoa butter. That makes its rich formula softens the curls and removes frizz, providing a smooth with natural movement and a lot of shine. In addition, the treatment also repairs damaged hair by the constant use of dyes, dryers and irons. You will have your hair like never before. Realign the hair strands due to the organic substances of the Cocoa extract, Wheat Germ extract, Branca Clay and Hydrolyzed Keratin. It gives an excellent result in reduction of volume, brightness and hydration. How to use EXPLANATORY VIDEO: - Wash the hair with the Deep Cleansing Shampoo (step 1), 2 to 3 times, massaging for approximately 3 minutes.
Rinse just with plenty of water. Remove excess water with a towel. Dry the hair 100% dry with the help of the dryer.
Divide the hair into 4 equal parts and apply the Moroccan Hair Treatment (step 2) with a brush, starting at the back of the head (neck), keeping the distance of 1 cm from the scalp. With the help of a fine comb, spread the product throughout the hair extension. Then, leave on exposure for 20 minutes. Then dry the hair 100% with the dryer.
Divide the hair into thin strands and iron 7 to 10 times each wick. Once you have ironed all your hair, wait for about 5 minutes to cool it and then rinse it off with water. Finish with a straight hairstyle (without ironing).
Ceramic plate temperature: - Blond hair, with wicks or detangling: 180ºC - Brown or virgin hair: 210ºC - Afro or non-colored hair: 230ºC Recommendations: Do not use tweezers, gummies or any other accessory that marks the hair, until it is washed again. Precautions: Wear gloves Do not use on injured or irritated skin.
Avoid contact with the eyes and may occur, rinse with plenty of water. Do not use in pregnant women or girls under 14 years. Keep out of the reach of children. Respect the distance of 1 cm from the scalp. Store in a dry and cool place with no incidence of light and heat.
Use the iron continuously, not leaving it standing in the same place of the hair. Do not use metal plate.
The item "Inoar Moroccan Brazilian Keratin blow dry 1 LITER to straighten Hair Kit 1 LITER" is in sale since Tuesday, February 11, 2020. This item is in the category "Health & Beauty\Hair Care & Styling\Relaxers & Straightening Prod".top" and is located in punto fijo.
This item can be shipped worldwide.
Hair Type: Dry Hair
Brand: Inoar