Absolute Free Brazilian keratin kit 2x 1L Formaldehyde FREE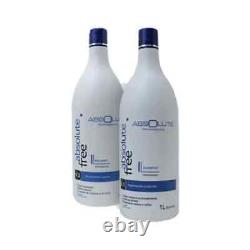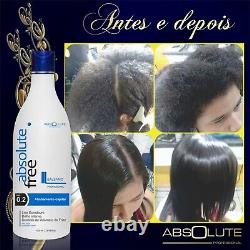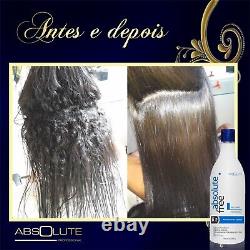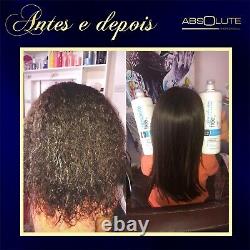 Was developed for nutrition and straightening the hair, giving it shine and movement. Its formulation contains pearls of caviar, acai and albumin. It's formaldehyde-free and promotes reduction from 70% to 100% of the volume.
Use allowed in pregnant women (from the 4th month) and children (7 years and up). Straightens up to 100% of the hair naturally. Concentrated formula 2 times more powerful. 0% formaldehyde derivatives and Comfort in application, without burning eyes and respiratory tract. It does not represent a risk to the health of the client and the professional.
Benefits of the active ingredients: Caviar is the name used to designate the roe of some species of Fish of the Acipenseridae family, with moisturizing, nourishing and emollient properties. Promotes protective, moisturizing, conditioning, remineralizing and regenerating action. The pulp and the peel of Açaí provides a juice rich in anthocyanidin-type antioxidants, a substance also present in red wine, which makes açaí a strong ally of longevity, anti-aging and favors its hydration. These antioxidants work by reversing the damage we do to hair from being exposed to the sun, coloring, and treatments such as straightening and perming.
The results of the treatment with the use of açaí are impressive, regaining the shine and vitality of the hair. Carbohydrates, proteins, vitamins B1 and B2, mineral salts, flavonoids and antioxidants promote nutrition, emolliency and conditioning of hair and albumin, which is a type of protein, present in human blood plasma, in this case, called (serum albumin) that is present in eggs, milk and rice and serves to remove oil from the scalp and strengthen hair. Step by Step: Wash your hair with Absolute Free Shampoo, massaging all over your hair with the finger tips.
Spread the product evenly throughout the hair. Rinse and repeat the process, without the need for a break, with 100% dry hair, divide the hair into 4 parts: neck and ear to ear Apply Balsam Absolute Free from the roots to the ends, checking the uniformity of the locks. Leave the product on the hair for 60 to 80 minutes according to the hair texture. Brush the entire head in fine strands perfectly from root to tip, with the product still on the thread.
Remove all product and finish by brushing and ironing your hair if necessary. Absolute Free fue desarrollada para nutrir y alisar el cabello dando extremo brillo y movimiento. Su formulación contiene perlas de caviar, açaí y albúmina. Sin formaldehído, proporcionando reducción hasta del 100% del volumen.
Uso permitido en mujeres embarazadas (a partir del 4º mes) y niños (a partir de los 7 años). Alisa hasta el 100% del cabello de forma natural. Fórmula concentrada 2 veces más potente. 0% de derivados de formaldehído y Comodidad en la aplicación, sin ardor en los ojos y las vías respiratorias. No representa un riesgo para la salud del cliente y del profesional. Beneficios de los activos: Caviar es el nombre utilizado para designar las huevas de algunas especies de Pez de la familia Acipenseridae, con propiedades hidratantes, nutritivas y emolientes. Promueve Acción protectora, hidratante, acondicionadora, remineralizante y regeneradora. La pulpa y la cáscara de Açaí proporcionan un jugo rico en antioxidantes de tipo antocianidina, sustancia también presente en vino tinto, que hace del açaí un fuerte aliado de la longevidad, anti envejecimiento capilar y favorece su hidratación. Estos antioxidantes funcionan al revertir el daño que hacemos que el cabello se exponga al sol, colorantes y tratamientos como el alisado y permanente. Los resultados del tratamiento con el uso de açaí son impresionantes, volviendo a alcanzar el brillo y vitalidad del cabello. Carbohidratos, proteínas, vitaminas B1 y B2, sales minerales, flavonoides y los antioxidantes promueven la nutrición, la emoliencia y el acondicionamiento del cabello y la albúmina, que es un tipo de proteína, presente en el plasma sanguíneo humano, en este caso, llamada (albúmina sérica) que es presente en huevo, leche y arroz y sirve para eliminar el aceite del cuero cabelludo y fortalecer el cabello.
Lávate el cabello con champú Absolute Free, masajeando todo el cabello con la yemas de los dedos. Extienda el producto uniformemente por todo el cabello.
Enjuague y repita el proceso, sin la necesidad de un descanso, con cabello 100% seco, divida el cabello en 4 partes: cuello y oreja a oreja Aplique Balsam Absolute Free desde la raíz a las puntas comprobando la uniformidad de las cerraduras. Deje el producto en el cabello durante 60 a 80 minutos de acuerdo con la textura de pelo. Cepille toda la cabeza en mechones finos perfectamente desde la raíz hasta la punta, con el producto todavía en el hilo.
Retire todo el producto y termine cepillando y planchando su cabello si es necesario.